Samsung Gear VR will put you in the shoes of the Suicide Squad!
4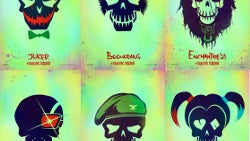 The highly anticipated Suicide Squad movie, based on characters and stories from DC Comics, is about to hit theaters in about a week. In sync with that, Samsung is prepping a special treat for the fans of the popular anti-heroes. No, it's not a
$1,250 limited edition variant
of the
Galaxy S7 edge
. It's a VR scene from the movie that has been re-enacted by the movie's staff and shot exclusively for owners of the Gear VR.
Without spoiling too much, the trailer for the VR scene shows us that we will be part of a huge fight between the movie's protagonists and a group of whatever villains they are going up against. It seems that we will be able to observe the battle from 3rd person perspective, thanks to a 360-degree camera that glides along behind the Squad, but also "get inside" the anti-heroes' heads for some first person action!
According to behind-the-scenes clips and interviews, the VR footage is an exact copy of a battle that cinemagoers will be able to see on the big screen. The actors say they had to learn their movements by heart, as re-enacting the complex action moves with a huge camera apparatus on their head was not exactly easy. In the trailer, we see that we will be able to follow the first person perspective of the beautifully insane Harley Quinn, played by Margot Robbie, but we wouldn't exclude the possibility of being able to get inside the heads of other members of the cast as well.