Samsung Gear Live hands-on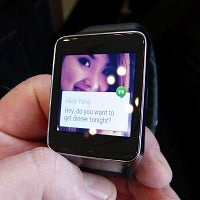 Samsung did indeed make an appearance at Google I/O on the first day, by way of introducing the
Samsung Gear
Live smartwatch, powered by Android Wear.
Just like the
LG G Watch
that made an appearance today, the Samsung Gear Live has a square/rectangular form factor. The devices have more than that in common too. The Gear Live is also available for pre-order on Google Play for $199.
The devices on display at Google I/O were pure demo units, so we could not make any assessments about their functionality. Given the rather "pure" experience that Android Wear delivers through a Google Now card interface however, the end user gets the benefit of not having to learn a whole new operating system when they strap one of these devices on their wrist.
Design
The Samsung Gear Live follows the same design language of the Gear 2 and Gear 2 Neo, so it is recognizable as a Samsung device. Gear Live does not have a camera however, and the home button has been moved to the side of the watch body. The Gear Live also has a heart rate monitor on the back plate. All the demo units had an adhesive film on it, so getting a clear picture was not possible, however, if you have seen the renders, then you would notice it looks like the sensors on Samsung's other watches.
Display
The 1.63-inch AMOLED display on the Samsung Gear Live is packing a resolution of 320x320, giving it a
pixel
density of 278ppi, more than enough to render clean images and text on the device. The demo devices were showing off quite a vivid range of colors, making the display nice to look at.
Interface
Android Wear is undeniably Android and that is not bad at all. The interface uses a Google Now card motif which is easy to navigate. The UI also makes good use of the space on the small display which is nice because it is easy to see how it could get cluttered by too much information.
Processor and memory
Just like its Korean cousin, the LG G Watch, Samsung's Gear Live has a quad-core Qualcomm Snapdragon 400 CPU tuned at 1.2GHz, along with 512MB of RAM and 4GB of storage
Samsung Gear Live will be available in either black or wine red. The form factor is distinctive enough from the LG G Watch that choosing between the two can really be a decision based on style. The G Watch will accept all manner of 22mm watch bands, which makes it stylish. The Gear Live has a heart rate monitor. Spec-wise, the two are nearly identical. Which one do you want?
By the time you get around to reading this, we will have picked up a review unit, so check back soon for a full review of the new Samsung Gear Live.
The Samsung Gear Live is now available for pre-order on Google Play for $199. Orders will ship by July 8th.
Samsung Gear Live