Samsung Gear 2 goes through the slow-motion torture test
6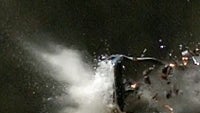 It it's a tech gadget, it's going to get tortured one way or the other, the internet has no shortage of video action showing what happens when we drop our beloved smartphone or crush a new smartwatch.
There's only one guy that pushes this gear to it ultimate demise though, and that's the Tech Assassin Rick Ryan. It not just about the high-quality slow-motion though, there's some practicality to it, he drops things on concrete and dunks them in a water tank for good measure.
That is where any similarity with other torture tests ends though, because then Ryan picks a gun of choice and lays waste to the gadget in spectacular fashion. In this case, Samsung's Gear 2 smartwatch is put through its paces. As usual, it is all caught on some great slow-motion footage.
The
Gear 2 is a decent smartwatch
, just about any watch strap can be used with it, and it is easy to navigate. It is a bit more expensive than its competition, but the trade off with that is tight compatibility with Samsung's Galaxy line of smartphones.
Unlike the rifle Ryan chose to
eliminate Galaxy Gear a few short months ago
, this time he has with him a Desert Eagle .50, a renowned semi-automatic hand gun that comes in a variety of calibers. However, it is best known for the massive slugs that the .50-caliber fires (certainly, you will pick up on Ryan's homage to the movie
Snatch
).
One shot, and it's all done.