Samsung Galaxy Tab available on AT&T
8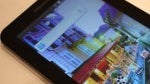 The Samsung Galaxy Tab has finally found its way to AT&T after the Android-powered tablet became available for big name rivals Sprint and Verizon earlier this month.
Unlike Sprint and Verizon, AT&T is only offering the Galaxy Tab without a contract and with a hefty price tag of $649.99. Yes, this is a $50 increase over the Sprint and Verizon versions but AT&T is including a $50 credit for the Samsung Media Hub that can be used for things such as movie rentals.
Similar to what AT&T did with the Apple iPad, you can get the 3G version of the Galaxy Tab and add a monthly data plan to it. Like their lineup of smartphones, the choices are a $15 plan that includes 250 MB of data or a $25 plan that includes 2 GB of data.
There really isn't anything that separates AT&T's offering with that of their main competition. The $50 credit is nice, but the cost of the device is $50 higher so it's a wash. Tell us what you think in the comments below.
source:
Mobile Burn