Almost all of Samsung Galaxy Tab S4's specs got leaked, and it has a monstrous battery
12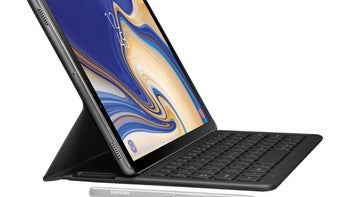 Talk about Samsung's upcoming Tab S4 tablet have been popping for a while now, hinting at a possible release soon, and what's a better fit for that than the upcoming IFA trade show in Berlin, Germany. It better come sooner rather than later since it will quite possibly be the only adequate answer to Apple's dominance on the tablet market.
When it comes to the hardware specs of the Tab S4, we already expected top-of-the-line internals but missed the finer details that would make the picture that much clearer. It just so happened that SamMobile got hold of a seemingly complete specs sheet for the upcoming slate, revealing pretty much everything that there's to know about the device.
And here's the gist of it!

The Tab S4 will likely be powered by the Snapdragon 835 chipset and will feature 4GB of LPDDR4X RAM as well as 64GB of storage inside of it. Up front, a 16:10 Super AMOLED display with a resolution of 2,560 by 1,600 pixels will have the task of wow-ing your senses.

While cameras are not that much of a selling factor on tablets, Samsung will be throwing a 13MP camera at the rear and an 8MP selfie one at the front. There will most certainly be an iris scanner right near the selfie camera as Samsung isn't expected to adorn the tablet with your regular fingerprint scanner.
Possibly the most important aspect of the tablet will be its superb battery, which will likely stand at 7,300mAh. This will be the largest battery ever fitted in a Samsung Tab S tablet, with the preceding Tab S3 holding a 6,000mAh unit and the even older Tab S2 9.7-inch boasting a 5,870mAh battery. Needless to say, this will likely help the slate last quite along time.
Additionally, the Galaxy Tab S4 will seemingly feature AKG-tuned audio as well as support Samsung's in-house DeX extensive desktop functionality, which is pretty nice.
Finally, the slate will have standard stuff like USB Type-C port, Bluetooth 5.0, GPS, Wi-Fi 802.11 ac, and so on. The Tab S4 will be powered by Android 8.1 Oreo, which is great news and should future-proof it to a certain extent.

As we said, keep your hopes posted for a potential IFA 2018 unveiling of the tablet.