Samsung Galaxy Tab 8.9 benchmark tests
17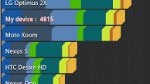 After checking out a whole host of Honeycomb flavored tablets, we're not all that ecstatic anymore whenever we hear about something packing a
1GHz dual-core NVIDIA Tegra 2 processor
– especially when it's remarkably in use by many of the available crop. Considering that it's the latest gadget to come out of Sammy's camp, the
Galaxy Tab 8.9
relies on pretty much the same internals found with its bigger brother – though, it's marginally smaller in footprint due to its 8.9" display.
Out of the box, we find the Samsung Galaxy Tab 8.9 running the
TouchWiz UX
experience on top of
Android 3.1 Honeycomb
. For the most part, its operation is acceptable with its smooth execution when navigating the homescreen. Even better, it doesn't exhibit the same choppy performance found in portrait usage like its older brother. However, things take a dramatic leap down as we test the tablet out by activating an intensive live wallpaper. Almost immediately, it is plagued with noticeable bouts of
lag and slowdown
- thus, wiping our earlier thoughts of fluid executions. Still, we haven't played with the tablet for too long to make final judgment, but we're sure to keep an eye out during our testing.
Getting right into it, the Samsung Galaxy Tab 8.9 is able to obtain
Quadrant
scores between
2,226 and 2,434
. Even though they're great score in the eyes of some people, they're not all that mind-blowing considering we've seen scores
over 3,000
with the Samsung Galaxy S II alone. Interestingly enough, it's able to best the score of its older brother, which put up a
paltry score of 1,550 on Quadrant
. Furthermore, the Galaxy Tab 8.9 manages to get a total score of
4,815
on the
AnTutu
benchmark test – again, beating the Tab 10.1's score of 3,729.
Comparing it to the cream of the crop out there, the results aren't drastically superior, but we're more concerned to see how it handles in the end with real world usage. Naturally, time will surely reveal its performance, so we'll keep checking it out to see how it stands up in the long run.