Samsung Galaxy Tab 3 tablets and a mysterious high-end tab rumored for MWC
15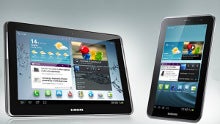 It has been almost a year since the 7- and 10.1-inch Samsung Galaxy Tab 2 slates were announced. Feels like it is time for a lineup refresh, don't you think? Well, that's exactly what might be in stock for Mobile World Congress, if what the rumor mill just served is to be believed. In fact, there may be at least four different tablets on display at Samsung's booth.
Word has it that the newest Galaxy Tab 3 tablets (both codenamed "Santos") will be unveiled, and just like their predecessors, they will come in a 7- and 10.1-inch form factor. Nothing is said about the resolution, nor the type of display that will be used, however. The processor of choice is also shrouded by mystery at this time. On the other hand, the source of today's rumor claims that both Galaxy Tab 3 models sport a 5-megapixel main camera. There will also be 3G and Wi-Fi-only variants of the two devices. As far as model names are concerned, they are said to be GT-P3200, GT-P3210, GT-P5200 and GT-P5210. Both the 7- and 10-inch Samsung Galaxy Tab 3 should be on the market within the first half of 2013.
In addition, Samsung is said to have a high-end tablet in stock, codenamed "Roma" and bearing the model name GT-P8200. Nothing is known about its hardware specifications, except that it should have a 5-megapixel camera and either 16 or 32GB of on-board storage. Again, the device is expected to be on the market in the first half of 2013.
The fourth tablet that Samsung is rumored to be working on is the Galaxy Note 8.0, codenamed "Kona" and having the model name GT-N5100 attached to it.
As we mentioned several days ago
, the device will offer an 8-inch, 1280 by 800 pixel touchscreen of the Super Clear LCD kind, and a quad-core Exynos processor. There will be a 5-megapixel camera gracing its back, and a front-facing shooter will make video chats possible. From the looks of it, this could be a worthy competitor to the
Apple iPad mini
.
We must also mention that according to the insider who spilled the beans, these four Samsung tablets will be released in white. The existence of other color variants is definitely not out of the question, but they may launch at a later time.
Keep in mind, however, that all of the above is unofficial information, which might turn out to be totally inaccurate. It could also be on the right track, of course, but whether that's the case we'll know with certainty in about a month's time – as soon as Mobile World Congress kicks off.