Samsung Galaxy Tab 10.1 pops up on YouTube; runs Honeycomb without a hitch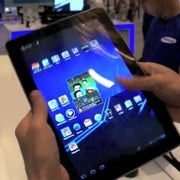 Remember when the
Samsung Galaxy Tab 10.1
was just a shiny tablet locked behind a glass wall? Well, not anymore. Samsung's 10-inch slate is already popping here and there on the web in all its beauty, and we finally get to see it booted up and running Android 3.0 Honeycomb with pride. Just recently, the Galaxy Tab 10.1 starred in a hands-on on YouTube so we thought you may be interested in seeing the device in action.
Whoever was the guy lucky enough to play around with the Samsung Galaxy 10.1, we thank him for recording a hands-on and posting it on YouTube for the whole world to watch. In the 5-minute long video, we get to see Google's Honeycomb powering Samsung's upcoming 10-inch tablet, and sure enough, it appears to be running seamlessly. We also get to see a side-by-side waistline comparison between the Galaxy Tab 10.1 and Apple's iPad 2 where it becomes obvious how marginal the thickness difference between the two devices really is.
Unfortunately, we are not exactly sure what the narrator is saying since our Vietnamese is not as good as we wish it was. Nevertheless, we would still recommend you to check out the video, which we have embedded for you below, and hope that there will be more of them to come soon.
source:
Tinhte.vn
(YouTube) via
Android Central