Samsung Galaxy S9 vs S8: is it worth upgrading?
31
Saying that the new Galaxy S9 looks like last year's model, the Galaxy S8, would be an understatement. The two are so similar, it's hard to tell them apart and if Samsung had positioned the fingerprint scanner in its proper place last year, it would be nearly impossible to tell one apart from the other.
Under the hood, though, Samsung says it has made some improvements: first and foremost with the camera that the company says it has "reimagined", but also there is a boost in performance and a few other gimmicky features like the new AR emoji and the 960fps super slooow motion camera mode.
How big of an improvement the Galaxy S9 (
see full specs here
) really is over the S8 (
see full specs here
) and is it worth upgrading? We have already spent two days with the Galaxy S9 and here is what we have learned.
"Camera reimagined", or is it?
New dual-aperture camera only kicks off in very dark scenes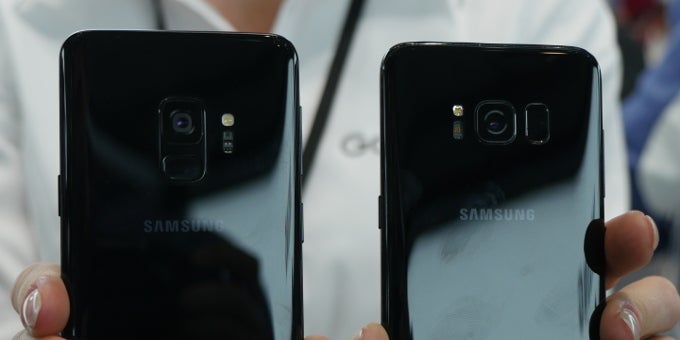 The Galaxy S9 comes with a single 12-megapixel camera that has a feature unlike that on any other smartphone: variable aperture. Smartphone camera sensors are tiny, with small individual pixels that struggle to capture enough light to record a usable photograph at night. That's why the lens aperture on recent smartphones has been growing larger and larger, to allow the most light to pass to the sensor for optimal low-light photos.
The Galaxy S8 was one of the first phones to have a wide, f/1.7 lens, and now the Galaxy S9 has pushed this number even further to f/1.5 (the lower the f/ number, the wider the aperture). But when you get to such low aperture, you also get a softer photograph, with less detail. And here is where the Galaxy S9 shines: it can physically change the aperture between f/1.5 and f/2.4. In fact, all of this switching happens automatically in the camera app, without you even noticing. Interestingly, the f/1.5 aperture only kicks in when you have very dark conditions (under 100 lux), so most of the time you will be shooting at f/2.4.
We took a few test pictures at f/1.5 and f/2.4 to show the difference in the amount of light that the phone can gather. These images were taken using the manual camera mode and are meant to illustrate the difference in light sensitivity, not the actual camera performance.
< S9 at f/1.5
S9 at f/2.4 >
As you can see there is a clear difference in the light gathering ability with this new variable aperture camera. But how does that affect real-world photo quality? We took some photos with the Galaxy S9 and the S8 for comparison. Take a look:
It's hard to draw any big conclusions from a few pictures, but what seems clear is that Samsung has changed a few things. At first look, photos turn out less contrasty, with a bit softer detail and gentler color tones.
Performance: Snapdragon 845 vs Snapdragon 835
TouchWiz, synonymous for stutter, has been improving in baby steps
The S9 features the newest Snapdragon 845 system chip which brings a nearly 40% performance boost in benchmarks.
In real life, the S9 runs with less stutter than the S8, and that is great news. The phone still has to pass the test of the time of a full review, but it shows promise. TouchWiz, now known as Samsung Experience, has traditionally been one of the most feature-packed and most stuttery Android interfaces, but these times might be changing slowly.
And as for the benchmarks, here are the results that we got for both phones:
| Benchmark | Galaxy S9 | Galaxy S8 |
| --- | --- | --- |
| AnTuTu | 241,500 | 166,700 |
| GeekBench Single-core | 3,100 | 2,008 |
| GeekBench Multi-core | 8,750 | 6,575 |
| GFXBench Manhattan 3.1 | 43 fps | 41 fps |
New features: gimmicks or genuinely useful?
Using your own face for emoji is a neat idea, but the realization looks very rough around the edges.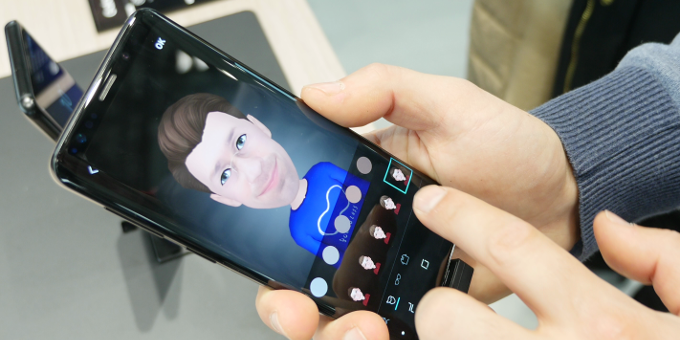 And then there are the other new features introduced with the S9. Let's list them all here:
dual speakers (main speaker on the bottom, secondary speaker in earpiece)
AR emoji & stickers
various new camera modes
Slow motion videos that we took with the S9 look epic, but they are nothing that other companies haven't showed already (Sony showed this a year ago). Either way, this is definitely not something you'd be using on a daily basis.
What makes a bigger difference is the new dual speaker system, which sounds louder and is a big improvement over the weak, lackluster single loudspeaker on the S8.
AR emoji are a great idea: I use a lot of stickers in chats and I would love a personalized sticker pack, but Samsung's implementation is very rudimentary. The AR emoji lack detail and look like characters from a The Sims game from the 90s. The stickers that they transform into are definitely cool, but also not enough.
Battery life: almost no change
One year of technological advances has not brought better battery life.
With a 3,000mAh battery on both the S9 and the S8, battery life is identical.
The S9 gets a very, very slight boost in talk time and music playback, but for everyday tasks like web use and video playback, the numbers are identical with the S8.
| Usage scenario | Samsung Galaxy S9 | Samsung Galaxy S8 |
| --- | --- | --- |
| MP3 Audio (with Always-On Display) | Up to 48hrs | Up to 44hrs |
| MP3 Audio (no Always-On Display) | Up to 80hrs | Up to 67hrs |
| Video playback | Up to 16hrs | Up to 16hrs |
| Talk time | Up to 22hrs | Up to 20hrs |
| Internet use (Wi-Fi) | Up to 14hrs | Up to 14hrs |
| Internet use (3G) | Up to 11hrs | Up to 11hrs |
| Internet use (LTE) | Up to 12hrs | Up to 12hrs |
Price comparison: is it worth it?
With all other things considered, the new Galaxy S9 also comes at a slightly higher starting price than the S8.
Unlocked, the Galaxy S9 costs $720, on par with the starting price of the S8, but at carriers the same S9 actually $800, nearly $80 more. This is clearly premium pricing, but it is not above the average flagship price that we are used to seeing throughout the years. Rumors about the S9 price going up to match the $1,000 iPhone X have not come true in the United States, and that's a great thing.
Samsung Galaxy S9
Samsung Galaxy S9+
Perks
Verizon
$799.99 or
$33.33/month for 24 months
$929.99
or $38.74 per month for 24 months
Up to $350 for trade-ins.
AT&T
$790.20
or $26.34/mo for 30 months
$915
or $30.50 per month for 30 months
T-Mobile
$719.99
or $30/mo for 24 months
$839.99
or $30 per month with $120 down
$360 trade-in offer for iPhone 6s and up, or Galaxy S7 and up
Sprint
$792
or $33/mo for 24 months
$912
or $38 per month for 24 months
Galaxy Forever program included. Up to $350 off with trade-ins.
Unlocked
$719.99
or $30/mo for 24 months

or $35 per month for 24 months
Up to $350 off for trade-ins
Best Buy
-
-
$100 off if you preorder through US carriers on March 2nd. Up to $350 off for trade-ins.
Final words
¿Si o no?
At the end of the day, is it worth upgrading from the Galaxy S8 to the Galaxy S9?
We don't think so. The S9 is a very gradual upgrade, an S upgrade of sorts and it does more to fix what Samsung should have already done on the S8: the proper fingerprint position and removing the stutter in the interface.
It's also hard to see how the S9 reimagines the camera, at least in our initial tests. We'd wait to take some more photos before giving you final judgment on that, though.
If you are coming from older phones, chances are you would be impressed with the stunning Super AMOLED screen with almost no bezel, the gorgeous design and overall feature set on the S9, but for others, this would be one rather minor update.