Samsung Galaxy S9+ (with Snapdragon 845) gets benchmarked, impressive scores ensue
67

We're at least a couple of months away from the day whenSamsung announces its Galaxy S9 and S9+ flagship smartphones, but we alreadyknow a lot about the two devices. For example, we know that both should bepowered by Qualcomm's brand new Snapdragon 845 processor (at least in the US).
Since the Snapdragon 845 is Qualcomm's most advanced chipsetto date, the performance of the Galaxy S9 and S9+ should be top-notch, superiorto any previous Samsung phone, and perhaps any previous Android phone,regardless of its maker. Benchmark website Geekbench appears to support thisidea, as someone seems to have benchmarked a real Samsung Galaxy S9+ and its Snapdragon845 processor, putting the results out in the open.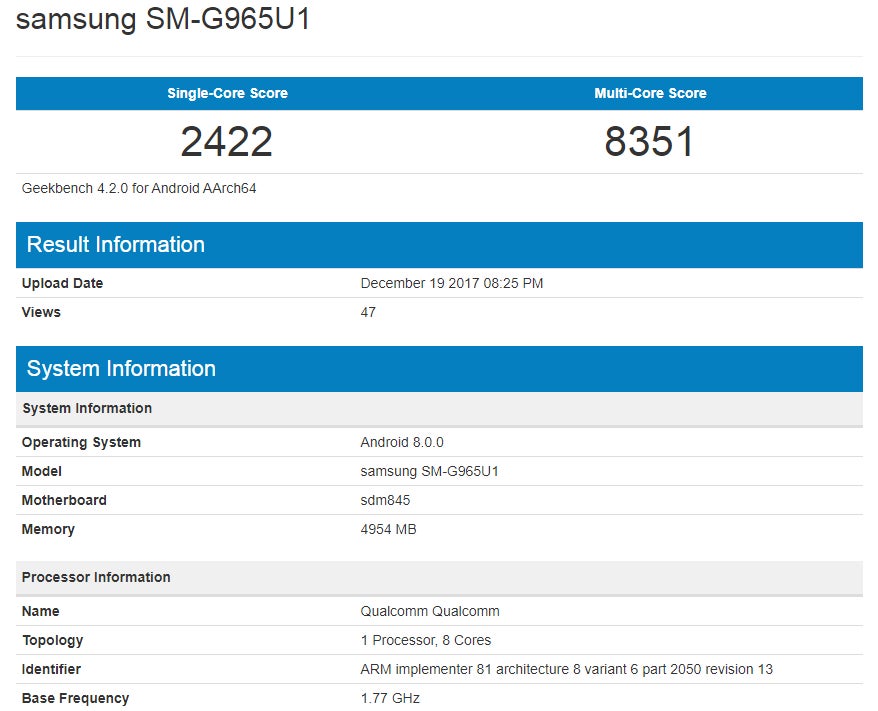 As you can see in the screenshot on the right, the Samsung Galaxy S9+ (model number SM-G965)got a single-core benchmark score of 2422, and a multi-core score of 8351. Untilnow, from what the data available at Geekbench can tell us, no other Samsung smartphonescored higher than 2000 on single-core performance, while the best multi-corescores hover around the 6500 mark.
This new GeekBench test also shows that the Samsung GalaxyS9+ runs Android 8 Oreo, and features 6 GB of RAM - no surprises here. Both theGalaxy S9+ and Galaxy S9 should be officially announced in February (likely atMWC 2018), and released around the world some weeks later, in March. The two smartphones seem tobe incremental upgrades over the S8 and S8+, but people are probably still excited aboutthem. Are you?