Leaked Samsung Galaxy S9+ renders reveal dual rear camera, 6.1-inch screen
56

Shortly after seeing a set of renders showing what's likelythe upcoming Samsung Galaxy S9, we can now take a look at similar renderspresenting the larger variant of Samsung's next flagship phone - the GalaxyS9+.
Revealed by MySmartPrice and @OnLeaks (who has a great trackrecord when it comes to info about unannounced phones), these new Galaxy S9+renders seemingly confirm the fact that Samsung is differentiating its twonext-gen phones by more than just their size. While the Galaxy S9 reportedlyfeatures a single rear camera, the larger Galaxy S9+ should come with a dualrear camera - positioned vertically, not horizontally as on the Galaxy Note 8.
Is Samsung pulling an Apple with the S9 series?
Dual main camera aside, the Samsung Galaxy S9+ resembles theS9 a lot, thus it's going to have a similarly-placed rear fingerprint scanner(below its camera). Its internals should be alike, too, including Qualcomm'smighty Snapdragon 845 processor.
Interestingly, it's said that the Galaxy S9+ sports a 6.1-inchdisplay - that's 0.1 inches smaller than the 6.2-inch screen of this year'sGalaxy S8+. The new phone should measure 157.7 x 73.8 x 8.5 mm - if that's thecase, it's not as tall as the Galaxy S8+ (159.5 x 73.4 x 8.1 mm), instead beinga bit wider and thicker. Hopefully, this means Samsung can pack a largerbattery inside.
With the Galaxy S9+ and S9, Samsung seems to be doing whatApple does with its iPhone and iPhone Plus models, offering an enhanced cameraexperience on the larger handset. This wasn't the case with previous Galaxyflagships, and, in fact, the S9+ will become the very first Galaxy S model to feature a dual rear camera.
Samsung will almost certainly announce the Galaxy S9+ andGalaxy S9 in the coming months, possibly at MWC 2018 (February 28 - March 1). Excited?
New Samsung Galaxy S9+ renders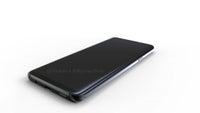 source: MySmartPrice / @OnLeaks