Samsung Galaxy S7 hands-on: stronger, faster, better
75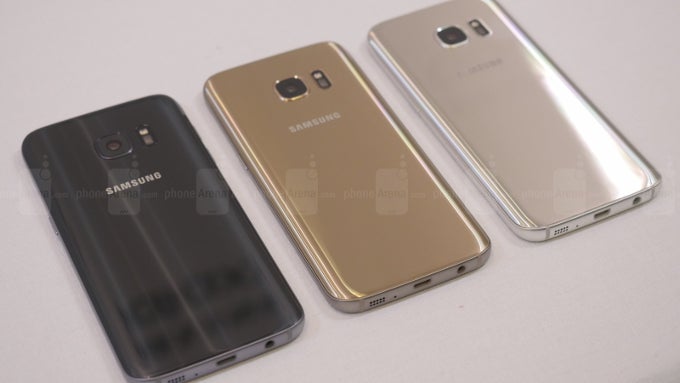 The second most popular high-end smartphone in the world has just gotten seriously upgraded. Samsung has introduced the Galaxy S7: a marriage of glass and metal which continues the themes that made the Galaxy S6 the great departure that it was from Samsung's previous efforts.
Unveiled alongside the slightly larger and curvier Galaxy S7 edge, the Galaxy S7 is Samsung's main flagship, the more traditional smartphone that's equipped with a good old flat screen of reasonable size. In a sense, the Galaxy S7 is like an 's' generation iPhone – the improvements it brings don't seem to radically alter the design and direction of the product, but rather polish and perfect the foundation that was laid by its predecessor.
Even though it mostly lacks any 'forward-looking' killer features, like the iPhone 6s' 3D Touch interface, the Galaxy S7 is a solid improvement across the board. It brings a new camera, refined exterior and faster performance. Simply put, things we can't get enough of.
But don't you think for a second that the Galaxy S7's job will be nice and easy once it launches in the US on March 11. Not in the slightest! The competition is closing in from every side: the iPhone 6s is still a relatively young and strong-selling product, while LG is expected to attack with its radically reworked G5 flagship very soon after the S7's launch. On top of that, there's HTC, which decided to avoid unveiling its M10 at the same time with the S7, but will surely strike soon after, potentially disturbing S7 sales. You may be thinking that with all those rivals lurking around, Samsung's Galaxy S7 should be extraordinarily good in order to retain a strong presence, and you'd be absolutely correct. So, let's take a look at what we're dealing with so we can have a better idea of just how strong of a competitor the Galaxy S7 is shaping up to be.
Design
Meaningful improvements elevate the S6 design to a new level in the S7. Oh, and it's water-resistant, too.
Being the iterative upgrade that it is, the Galaxy S7 doesn't look much different than its predecessor. However, that doesn't mean Samsung hasn't introduced some beneficial changes to the design. Perhaps most notably, the S7 has adopted the Note 5's curved glass back, which definitely makes for a more pleasant feel when you're holding the phone. The edges of the metal frame surrounding the device are also nice and smooth, so they don't create discomfort in the hand. Weight-wise, the S7 has grown noticeably heavier, which can be attributed to the significantly larger battery inside (more on that later). Anyway, the added heft doesn't seem to detract from the aura of premiumness exuded by the Galaxy S7 – but it makes it feel more substantial for sure.
The colors in which the Galaxy S7 will be available this time around seem a tad less crazy: it'll simply be offered in "Black Onyx" (black), "Gold Platinum" (gold), and "Silver Titanium" (silver-ish). All color variants look nice and mature – we'd dare say nicer than those of the S6. What's also nicer in the S7 is that Samsung has brought water-resistance back. With IP68 certification, the S7 is practically dust-tight, and it means you can safely submerge it into water beyond 1 meter for as long as you want to, though, Samsung would advise that you don't.
As you can see, no truly major changes have been made appearance-wise, but Samsung has still made sure to enhance its design vision, because, quite frankly, it needed to. The S7 may not be ready for a 'most beautiful smartphone' award yet, but it sure comes off as a top-quality product.
Display
Welcome to the always-on display era!
Samsung's AMOLED displays tend to be in the upper echelon in terms of specifications. This year, however, the company has neither pumped up the resolution, nor increased the diagonal. Instead, it's introducing a new feature that's supposed to enhance user experience: always-on display.
Utilizing the strengths of AMOLED, Samsung has crafted an always-on screen feature which is constantly keeping part of the display on, in order to show important info, such as the time, notifications or appointments. How many times have you pushed the power or home button to wake the display of your phone, just to see what time it is? You're doing this quite often, we'd wager. So in that line of thought, the Galaxy S7's always-on display feature should come in very useful. The best part is that it isn't supposed to waste too much battery, since AMOLED screens can light up only select pixels, and not the whole backlight like an LCD.
From specs perspective the screen remains largely the same: 5.1" diagonal and ultra-sharp 1440 x 2560 pixel resolution. Needless to say, all this lends to a reasonably sized display (and phone), along with extra-clear image for pleasurable reading and viewing. Unfortunately, we can't comment on the color accuracy of the display at this point, but hopefully it'll be improved over that of its predecessor.
Interface and Functionality
TouchWiz is versatile and coherent, but can still feel jerky at times.
Traditionally, we've been asking Samsung to streamline and optimize its TouchWiz user interface, and the company clearly showed it's willing to improve things with the S6 last year. This time around, Samsung isn't talking about slimming things down – as a matter of fact, we couldn't identify any missing features in this latest iteration of the software, so advanced users will probably be happy to know that things like side-by-side app multitasking have been kept in tact. TouchWiz looks and feels rather coherent at this point, with design themes that can be traced throughout the whole interface.
The weak links in the TouchWiz chain have always been system performance and handling. The devices we had the opportunity to test were pretty clean ones, as you can imagine, so we can't really comment on the long-term performance of the Galaxy S7 yet, but at least our initial observations are that the S7 will handle similarly to the S6... with the added performance benefits courtesy of Android 6 and the new processor. We expect the Galaxy S7 to move a bit faster than its predecessor, but scroll jerkiness and sporadic stutters may still be part of the equation. We'll have to test the device more in-depth, in order to draw any conclusions.
Processor and Memory
Snapdragon 820 and Exynos will deliver considerably faster performance; the microSD slot is back.
Samsung has the benefit of producing its own chipsets, and you can be sure that it'll be saving the very best silicon it's produced for the Galaxy S7. In the United States, though, the S7 will use Qualcomm's Snapdragon 820 system-on-chip, while internationally, some markets will be treated to the newest Exynos chip, with others also getting the Snapdragon version.
Raw computing performance should be considerably better than before. Samsung boasts up to 30% faster CPU and 60% faster GPU performance compared to the S6, which sounds good, but not ground-breaking. Both the Exynos and Snapdragon 820 variants of the Galaxy S7 should deliver these kinds of performance increases.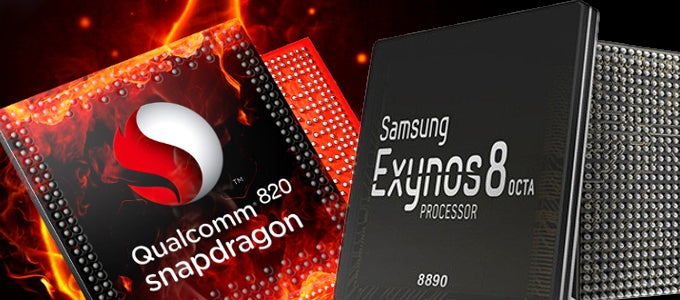 The good news for gamer don't stop here! Samsung says the Galaxy S7 will be the first phone to support the advanced Vulkan graphics API, which allows developers to really tap into the raw potential of the device's hardware. All of these computing resources can be utilized for better graphics, effects, and faster performance in video games. Speaking of games, Samsung has also produced a new app, called Game Lounge, which unlocks a bunch of cool options for players, such as gameplay footage recording, easy notifications dismissing while gaming, and performance optimization in games.
Then, there's the memory question, and once again, we feel fans of the pre-S6 era will enjoy what is to follow. Samsung's latest and greatest invention will be equipped with 32 GB of internal memory, which is OK, but users willing for more space will now be able to expand that using a microSD card. It's a bit disappointing that Samsung isn't making a version with more than 32 gigs of internal memory, but at least users can take advantage of Android 6's option to use an SD card as internal memory supplement. Just be sure to grab a really fast, high-level SD card.
Camera
Fewer but bigger pixels and very wide aperture: a promise for wonderful low-light photos.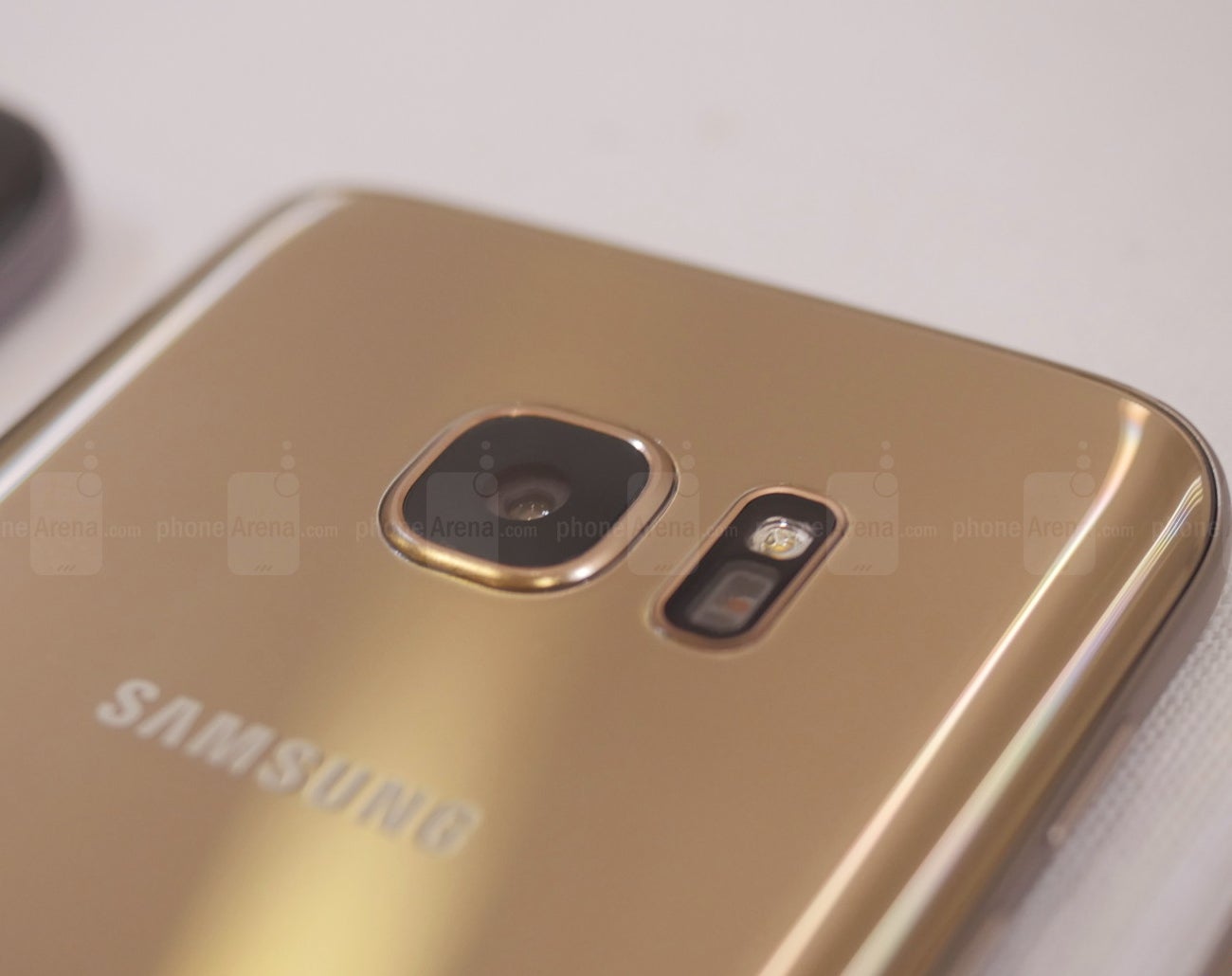 An area where Samsung seems to have gone for larger strides forward is the camera. Indeed, one of the most popular features on smartphones these days is said to have gotten way better on the Galaxy S7. At first, you might be shocked to know that the main camera's resolution has been lowered from 16 MP to 12 MP. But don't worry, there are other elements that have much more to do with photo quality than the sheer amount of pixels, and in this relation, Samsung has delivered.
The new 12 MP camera has large, 1.4-micron pixels, as well as a wide aperture of F/1.7. The larger pixel size is estimated to allow about 56% more light to reach the camera sensor for the same amount of time vs the S6, while the wider aperture delivers around 25% more light than before. Overall, these upgrades should allow the Galaxy S7 to take much better low-light photos, with brighter exposition and more focus.
Speaking of focus, the other big improvement here is called Dual Pixel. While the previous model also had phase detection autofocus, it could actually use just a fraction of its pixels to focus on the object in front of the lens. In the S7, Samsung's new sensor can use all of its pixels in order to achieve a much faster and more reliable focus. You can browse through the camera samples we have in the gallery below to get an idea of the new camera's capabilities, but don't forget that results from the final version of the Galaxy S7 might be a bit different.
Other than that, the camera interface of the S7 has remained largely the same as before. It's well organized and allows easy access to the most important controls like the camera and camcorder shutters, as well as quick exposure adjustment. A really nice trick is the ability to pause and continue video recording, which makes it very easy to end up with a nicely composed, single video clip. Advanced manual controls are, naturally, available as before, but manual video recording mode isn't available.
Battery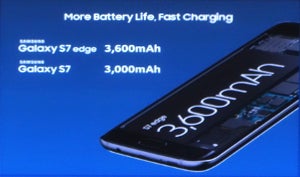 One of the more profound upgrades found in the Samsung Galaxy S7, in our opinion, is the much bigger battery. Last year's Galaxy S6 came with a 2550 mAh unit, which isn't small for a phone with 5.1" display, but this year, Samsung is taking things to a whole new level. The new battery has a capacity of 3000 mAh, which is a much appreciated 17% increase. To put things in context, the much larger Galaxy Note 5 has a 3000 mAh, so we can't help but be impressed with the sheer fact that Samsung managed to fit such a large juicer in the more compact body of the Galaxy S7.
The only thing we hope at this point is for this bigger capacity to translate to a noticeably longer battery life as well.
Expectations
The message has been signed, bottled, and thrown into the water, so to speak. Or, in other words, the Galaxy S7 has been announced, and it is what it is – an across-the-board upgrade that doesn't attempt to wow us with anything specific, but rather with being an excellent all-around high-end package. There's no turning back now, but that's OK, because Samsung seems to be on the right track with the S7: the company has introduced meaningful improvements in a variety of important categories, including the design, the performance, and the camera.
The S7 takes the S6 experience to the next level, and we feel pretty confident that the resulting product will be good enough to withstand most of the competition throughout 2016. We expect neither Sony, nor HTC to dramatically threaten Samsung's rule in Android in the near future. The closest opponent here will remain LG, whose G5 shapes up to be enigmatic enough to provide reasonable alternative to the S7. However, its modular tricks are a bit too geeky and complicated, so it probably won't be able to snatch significant chunks of the Galaxy S7's mainstream following. And then, there's the iPhone 6s, which will most likely remain equal or better in a number of key areas, such as design, ease of use, and system performance. This will, of course, make life tough for the Galaxy S7, but as we said, we feel confident that the status quo is to remain largely unchanged throughout 2016.
Samsung has generously revealed the Galaxy S7's release date; that would be Match 11, however, the S7's price is yet to be officially announced. In the United States, it'll be the carriers who'll be announcing the exact pricing schemes, because those will naturally be intertwined with their own installment plans and contracts. However, we aren't expecting any surprises on that front; the Galaxy S7's price will be typical flagship one – installments of $20-something per month if you go with 2-year installment plan, plus the price of the cellular service and other fees on top of that.