Samsung Galaxy S7 edge hands-on
79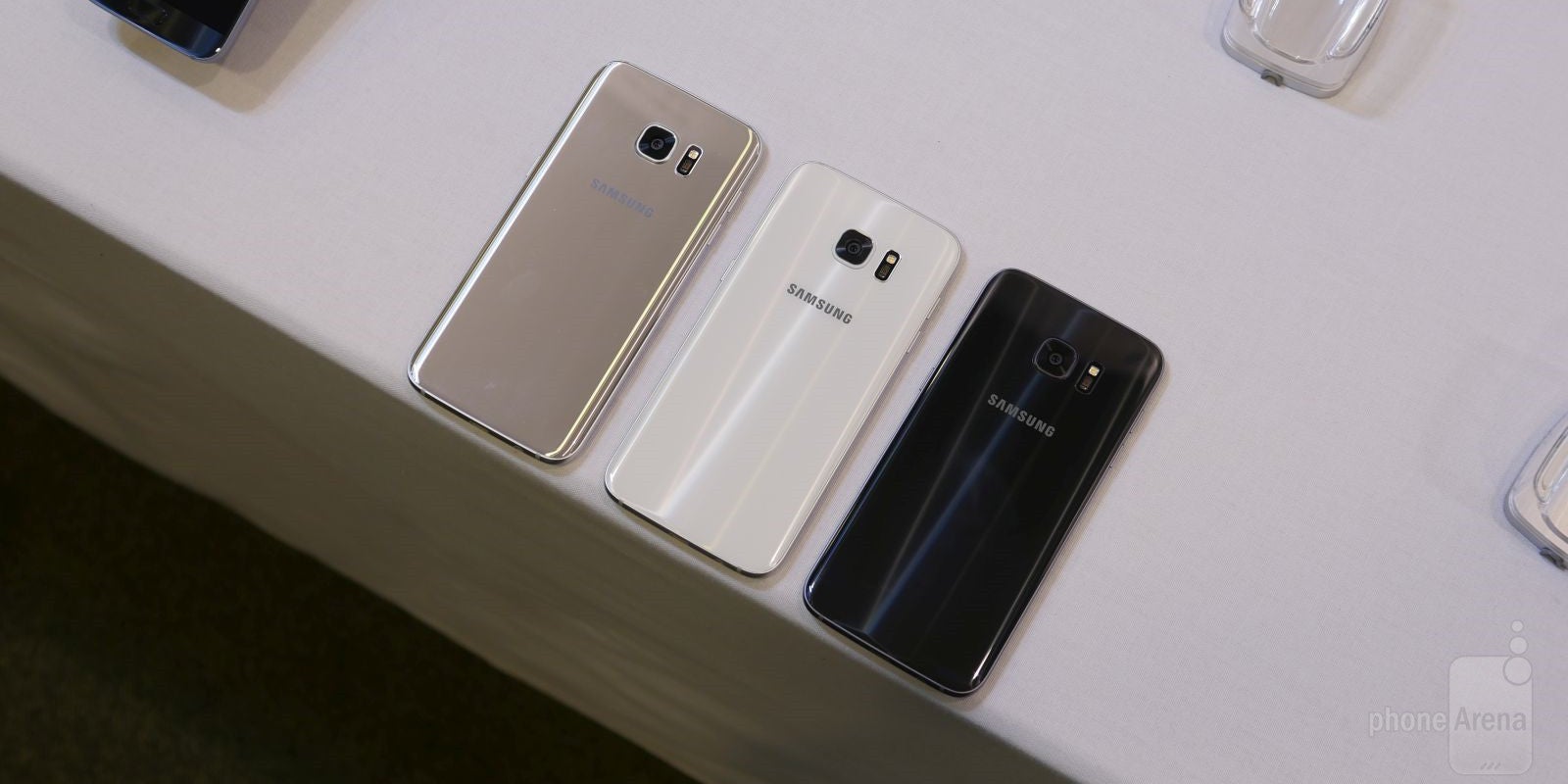 Mobile World Congress 2015 was an especially remarkable one for Samsung. They came out swinging in a big way by introducing not one, but two brand new smartphones with radical designs. Between them, the Samsung Galaxy S6 edge featured everything its sibling in the standard Galaxy S6 offered, but it came with cooler aesthetics courtesy of its dual-curve edge display.
Just like last year, Sammy is announcing two new phones for MWC 2016. While last year's handsets were closely similar, the Samsung Galaxy S7 edge differentiates itself not only for its dual-curve edges again, but also for its larger screen size. One of our biggest complaints about the edge series thus far has been the lack of utility regarding its curved edges – with most of its features still being regarded as novel.
Despite that, Samsung is moving forward with its latest and greatest, which should be a force to be reckoned with considering its now uncompromising approach.
ALSO READ
:
Samsung Galaxy S7 hands-on
Design
Are we at all surprised by the design of the Galaxy S7 edge? Based on everything from what we can gather, the iterative changes present here help to move the design forward. No longer are our hands burdened by those sharp edges from before, just because it adopts the rounded curves around the back of the phone – introduced first by the Note 5. Not only does it look good, but it feels incredibly wonderful as well.
The good doesn't stop there, as it features one incredible screen-to-body ratio. For something that packs a sizable 5.5-inch screen, it doesn't feel gigantic much like the other phablets in its class. In fact, they've engineered it so that it's 3.5mm slimmer than before. This stark change is quite evident putting an iPhone 6s Plus next to it, which looks obnoxiously massive in comparison to Sammy's latest offering. And sure, it still has that premium feel to it – attributed by that metal bezel trim being sandwiched by glass.
Bringing back features that were absent with last year's model, Samsung does justice by reintroducing an IP68 certification that endows it with dust and water resistance. Now, Samsung is careful about using the term 'water resistance' because they still refrain from saying it can be submerged. Rather, it's there to protect it from minor splashes from water. We're confident, though, that the phone will be able to withstand submersion just like the Galaxy S5 previously, even though Sammy isn't too keen about the idea.
Also worth pointing out are some of the handset's subtle changes, such as how the power button/fingerprint sensor is now flatter than before, as well as how the lens of the rear camera doesn't stick out as much. And did we mention that they're able to stuff an even beefier 3600 mAh battery into its svelte frame? Quite frankly, all of this shows that Samsung is undoubtedly delivering that no-compromise package with the Galaxy S7 edge.
Display
Samsung doesn't have much to prove when it comes to display, seeing that they're one of the best in the business at it. For the Galax7 edge, it comes with a larger 5.5-inch 1440 x 2560 Super AMOLED display with those signature dual-curve edges. Again, we can't stress enough about the slick aesthetics brought on by them, but we're more curious about how it'll affect, you know, future variants – just like last year's Galaxy S6 edge+.
We will, however, have to give kudos to Samsung for making this phone extremely compact in overall size. It's exceptionally detailed, sharp, and exhibits the qualities that we're familiar with already. And when you factor in Samsung's track record for display making, we're highly confident that this one will follow suit as well – in areas such as color temperature, luminance, and viewing angles.
Those dual-curve edges serve the same purpose as before, but new changes might help steer it away from that novel attachment. We'll go into some more detail about it in the next section, but quite frankly, we have little complaints about the screen for right now.
Interface and Functionality
Samsung's TouchWiz UI has seen its up and downs, with last year's iteration leaning towards the up direction with its refined, simpler approach. That's yet again the trend with this latest edition running in the Galaxy S7 edge. The experience as a whole is identical to its sibling in the Galaxy S7, but with one major difference – the edge UX. This time around, however, they're maximizing a bit more of the real-estate, as well as going with a horizontal layout, by making the tab 550 pixels wide.
Functionally, the edge UX works in the same capacity before, but with a set of new stuff at the same time. Now that it occupies a wider amount of space, content is aggregated in a more logical arrangement. Acting just like before, the edge panel gives us yet another form of multi-tasking at our disposal, but newcomers like the ability to set a macro and third-party support will undoubtedly increase its worth. For example, the macro feature seems useful because rather than opening the camera and then switching to the front-facing camera to snap a selfie, a macro can be made so that launching it does exactly that function.
In a way, the idea of the edge panel might continue to be viewed novel to some, but it's there for the convenience of users who actually use them. Not everyone is going to find these edge UX features integral to the experience, there's still a long way before people fall into the habit of relying on them day in, day out.
More importantly, of course, is that this iteration of TouchWiz continues to be one incredibly diversified and comprehensive experience that covers the gamut. Samsung has always expressed its interest in meeting customer demand, so there's no surprise that the Galaxy S7 edge has the arsenal to appease them. In looking at what's available this go-around, it seems as though nothing has been eliminated, as many of the previous functions are all present here.
From its true side-by-side apps multi-tasking, the one-handed mode that shrinks the interface to a thumb reaching friendly size, and the various smart gestures, TouchWiz remains to be one of the most comprehensive packages out there – made better by having Android 6.0.1 Marshmallow from the get-go.
Processor and Memory
Samsung made it clear during our meeting that two chipsets will be leveraged for the latest Galaxy S7 line, Qualcomm's Snapdragon 820 chip for the US market, and its own

homebrewed Exynos for just about everywhere else. This revelation is an intriguing one, more so when last year proved to be fruitful for Samsung going all in-house of the Galaxy S6 line.
The models we managed to check out delivered the swiftness and finesse that we come to expect in a high-end smartphone in this day and age. Naturally, the easy stuff is handled with ease, but Sammy also claims that the graphics processing of the handset isn't going to be compromised because there's Vulkan API access for gaming – as well as recording gaming footage in real-time.
Samsung committed what many folks thought of as a sin last year by announcing only internal storage for the Galaxy S6, but they've reluctantly made the switch back for the Galaxy S7 edge. While the base 32GB of storage that's offered is generous, the microSD slot is back to provide us with the same level of leverage found in the past.
Camera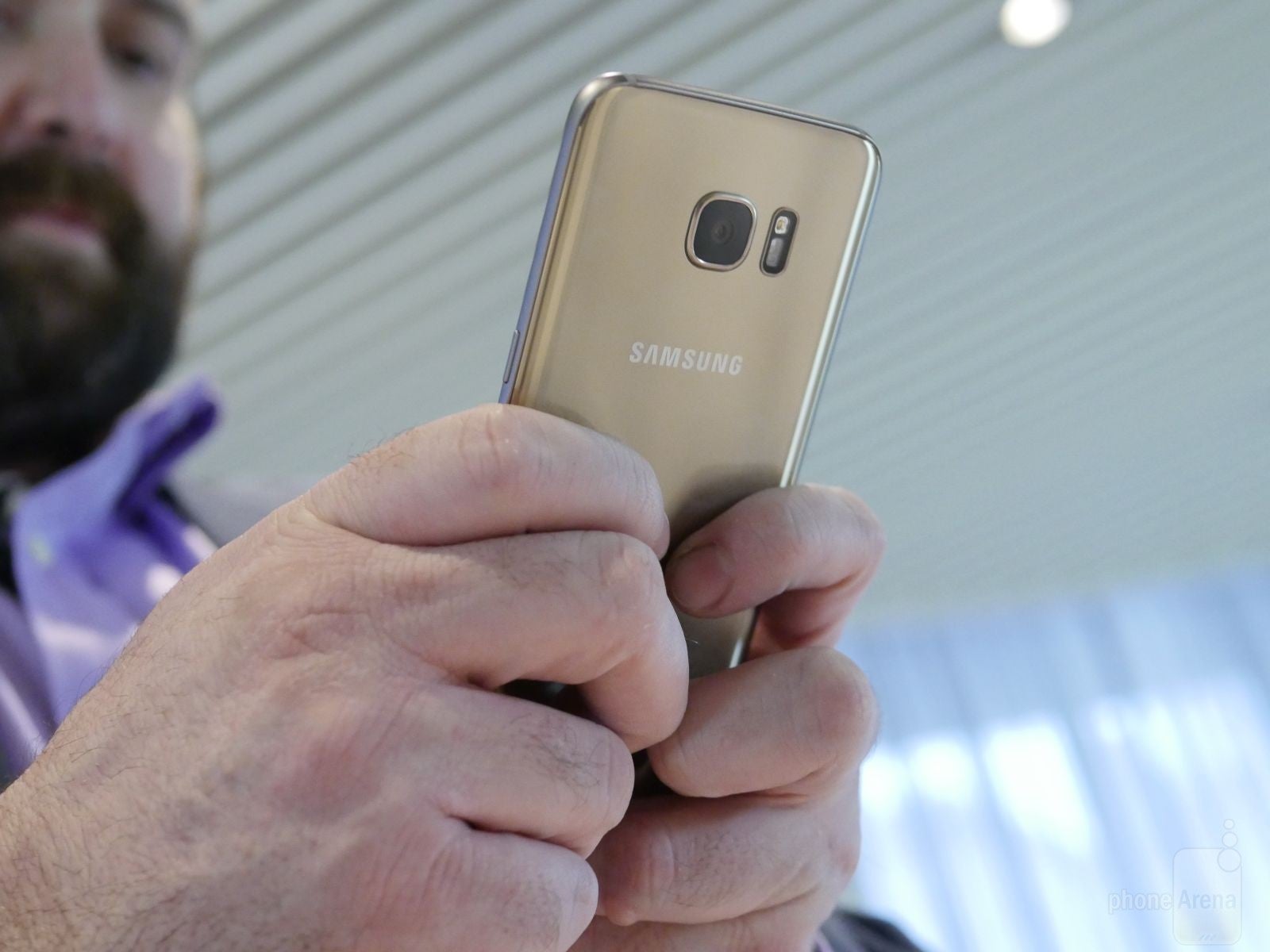 When it comes to snapping photos quickly and effortlessly, the Galaxy S line has always shown itself to be quite adept for the occasion. By now, we're familiar in how Samsung has constantly remained relevant in the camera space with its smartphones – and naturally, the Galaxy S7 edge follows suit. The dated thinking of more megapixels is better is finally behind us, as the Galaxy S7 edge adopts a lower count one than its predecessor.
Well, it's about time that people realize that there's more to a camera's performance than the sheer amount of megapixels it's boasting. For the Galaxy S7 edge, Samsung has opted to go with a 12-megapixel rear camera, which is accompanied with notable features such as an f/1.7 aperture lens and a brand new. Combining those elements with a "Dual Pixel" sensor and 1.4 µm sized pixels, Samsung claims that its low lighting performance and focus are going to be class-leading in the space.
Putting that claim to the test, we witness for ourselves how the camera not only loads faster than the iPhone 6s Plus, but also absorbs more light in the process – resulting in photos that are brighter and exposed. To be fair, though, we're seeing all of this action through the phone's screen, so it'll be interesting to see how samples look on a computer for a true comparison. Nonetheless, all of this points to the obvious that much of the camera's focus is emphasized on low light performance, especially when Sammy agrees that most handsets in this day and age can capture some good snapshots when lighting is abundant.
The interface looks unchanged for the most part, boasting all the eclectic modes that Samsung is known for. Yes, manual controls are still present with the interface, but there's no love given to the video side of things. Unfortunately, video recording is only set for automatic – so there's no adjustment in any of the parameters while shooting video in real-time. We suspect that a variant, or maybe the Note line, will be graced with full manual video controls like those found in the LG V10. Don't get us wrong, we're confident that the Galaxy S7 edge will be a dandy of a phone for the occasion, but enthusiast might look elsewhere for now – or just wait for that matter.
Expectations
You won't have to wait long before your grubby hands are able to snatch a Galaxy S7 edge, seeing that Sammy is opening up pre-orders for the US market starting at 8:00 AM EST on February 23rd. That's not too far away, which speaks volumes to Samsung's market share, but the actual availability date for the phone will be March 11. Already, carriers like AT&T, Sprint, T-Mobile, Verizon, and US Cellular are all on tap to sell the phone. As for everyone else? Well, there was no mention of it, but you can bet your behind that it won't be long either.
Pricing hasn't been revealed, however, it's most likely that the Galaxy S7 edge will follow the same price point as the S6 edge from last year, which was higher than the S6 – so expect the S7 edge to be more than the standard S7. Unlike last year, there's slightly more incentive to go with the Galaxy S7 edge not only because of the slick design brought on my its dual-curved edges, but also that it has a larger screen, and bigger battery.
As we've alluded to earlier, the Galaxy S7 edge is a no-compromise smartphone that's an improvement over its predecessor. It's not necessarily a giant leap forward, but rather, a tangible successor that addressed many of the missed opportunities. You know this will be one of the phones that'll remain relevant throughout the year, and we can't stress about the fact that it's still one of the best looking – a testament indeed considering it now has a water-resistant construction.
What we're really curious about, though, is how the increase in size will affect whatever variant Samsung decides to announce in the fall. As its name implied, the Galaxy S6 edge+ was a larger sized device over the Galaxy S6 edge, so we're curious to see where it goes with whatever variant we might see – and how it's going to be able to differentiate itself besides size. Now, before we all get ahead of ourselves, let's just agree that the Galaxy S7 edge is all about no compromises.