Samsung Galaxy S7 edge vs Galaxy Note 5 vs iPhone 6s Plus specs comparison: a Mexican standoff
9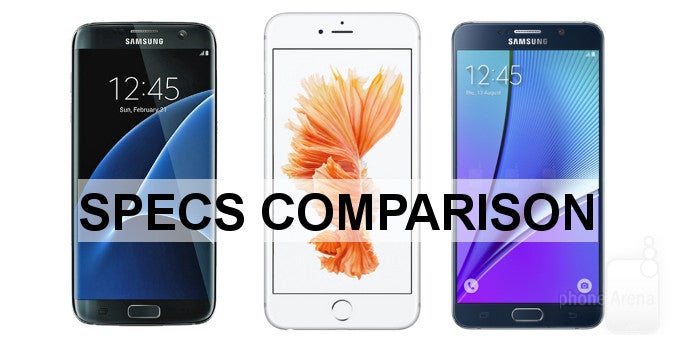 Apart from the
Galaxy S7
, Samsung today unveiled its larger and "edgier" counterpart - the intriguing
Galaxy S7 edge
, a device that shines on all fronts. It's indeed another noteworthy big-screen phone from Samsung, which joins the ranks of the
Note 5
and
S6 edge+
. Still, the S7 edge has the potential to be better on all fronts.
The Note 5, in particular, is considered one of the best devices right now - S-Pen, hardware specs, and design that truly set it apart. Of course, the S7 edge does not dwell on the same plane of functionality, but this does not mean that the two are not comparable. On the contrary, we just decided to pit them against one another and devise a brief specs comparison.
Oh, and don't frown at the sight of the
iPhone 6s Plus
- it's another fine device that not only deserves a mention, but also deserves to get featured alongside the two Samsung warriors.
Super AMOLED
IPS LCD
Super AMOLED
Scratch-resistant glass, Ambient light sensor, Proximity sensor
Pressure-sensitive, Oleophobic coating, Scratch-resistant glass, Ambient light sensor, Proximity sensor
Scratch-resistant glass, Ambient light sensor, Proximity sensor
Samsung Exynos 7 Octa 7420 (14 nm)
Apple A9 APL1022
Qualcomm Snapdragon 820 MSM8996 (14 nm)
Octa-core, 2100 MHz, ARM Cortex-A57 and ARM Cortex-A53, 64-bit
Dual-core, 1840 MHz, Twister, 64-bit
Quad-core, 2200 MHz, Kryo, 64-bit
Mali-T760 MP8
PowerVR GT7600
Adreno 530
64GB, not expandable
128GB, not expandable
32GB
Android (7.0 Nougat, 6.0 Marshmallow, 5.1 Lollipop), Samsung TouchWiz UI
iOS (15.x, 14.x, 13.x, 12.x, 11.x, 10.x, 9.x)
Android (8.0 Oreo, 7.0 Nougat, 6.0 Marshmallow), Samsung TouchWiz UI
Qualcomm Quick Charge 2.0
16.0 days (384 hours)
the

average

is 29 days (688 h)
22.00 hours
the

average

is 0 h (0 min)
24.00 hours
the

average

is 0 h (0 min)
36.00 hours
the

average

is 0 h (0 min)
3G: 12 hours; LTE: 12 hours; Wi-Fi: 12 hours
3G: 13 hours; LTE: 15 hours; Wi-Fi: 15 hours
64.00 hours
80.00 hours
66.00 hours
15.00 hours
14.00 hours
19.00 hours
Single camera
Single camera
Single camera
16 MP (OIS, PDAF, CMOS image sensor, BSI sensor)
12 MP (Sapphire crystal lens cover, OIS, PDAF, BSI sensor)
Aperture size: F1.9; Focal length: 28 mm; Sensor size: 1/2.6"; Pixel size: 1.12 μm
Aperture size: F2.2; Focal length: 29 mm; Sensor size: 1/3"; Pixel size: 1.22 μm
Aperture size: F1.7; Focal length: 26 mm; Sensor size: 1/2.5"; Pixel size: 1.4 μm
3840x2160 (4K UHD) (30 fps), 2560x1440 (QHD), 1920x1080 (Full HD) (60 fps), 1280x720 (HD), 640x480 (VGA)
3840x2160 (4K UHD) (30 fps), 1920x1080 (Full HD) (120 fps), 1280x720 (HD) (240 fps)
3840x2160 (4K UHD) (30 fps), 1920x1080 (Full HD) (60 fps), 1280x720 (HD) (240 fps)
OIS, Continuous autofocus, Object tracking, EIS, Video calling
OIS, Time-lapse video, Continuous autofocus, Video calling, Video sharing
HDR, Picture-taking during video recording, Video calling, Video sharing
6.03 x 3.00 x 0.30 inches (153.2 x 76.1 x 7.6 mm)
6.23 x 3.07 x 0.29 inches (158.2 x 77.9 x 7.3 mm)
5.94 x 2.86 x 0.30 inches (150.9 x 72.6 x 7.7 mm)
6.03 oz (171.0 g)
the

average

is 6 oz (171 g)
6.77 oz (192.0 g)
the

average

is 6 oz (171 g)
5.54 oz (157.0 g)
the

average

is 6 oz (171 g)
Back: Glass; Frame: Metal
Back: Aluminum
Back: Glass (Corning Gorilla Glass 4); Frame: Aluminum
Fingerprint (touch)
Fingerprint (touch)
Fingerprint (touch)
Stylus, Touch sensitive control keys
Notification light
Touch sensitive control keys