Samsung Galaxy S7 and Galaxy S7 edge dimensions allegedly revealed by leaked schematic
65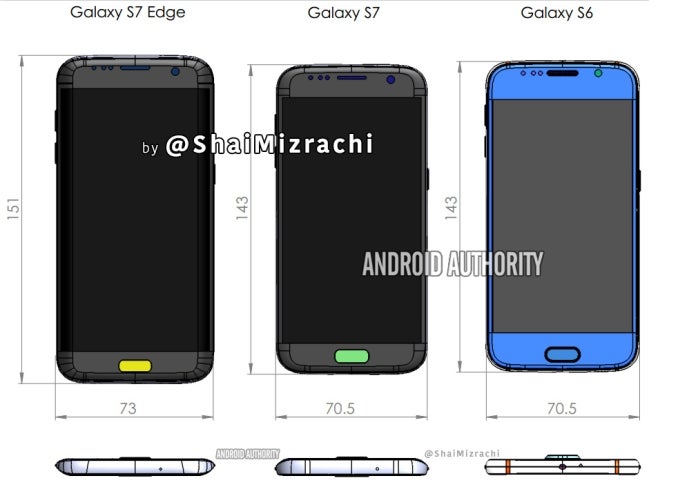 Earlier today, a report from South Korea claimed that there will be just
two versions of the Samsung Galaxy S7
: a standard 5.2-inch version and a curved-edge 5.5-inch variant. Just hours later, an alleged leaked schematic found its way online claiming to show the exact dimensions of both versions of the phone.
Before we dive into the details, please bear in mind that the accuracy of this schematic cannot be verified. As such, make sure to digest this info with an unusually large dose of the proverbial grain of salt.
According to the leaked schematic, the Samsung Galaxy S7 will have the same width and height (70.5 x 143mm) as the current-gen Galaxy S6. This is interesting given that the Galaxy S7 is said to feature a 5.2-inch display, up from 5.1 inches on the Galaxy S6. At these dimensions, and considering a 5.2-inch display running at the standard 16:9 aspect ratio, the Galaxy S7 would have a screen-to-body ratio of 73.94%. For refference, the Galaxy S6 has a screen-to-body ratio of 70.7%.
Moving to the 5.5-inch Samsung Galaxy S7 edge, the leaked schematic claims that the phone will measure 151mm in height and 73mm in height. Equipped with a 5.5-inch 16:9 screen, the Galaxy S7 edge would have a screen-to-body ratio of 76.62, identical to that of both the Galaxy S6 edge+ and the Galaxy Note 5.
Another detail that this schematic claims to reveal is that the Galaxy S7 will come with a curved back in an attempt to improve ergomomics. The Galaxy S7 edge, on the other hand, is depicted with a flat back, which makes sense given the curved display on the front.
If you need to catch up on Galaxy S7 rumors, then all you have to do is read our detailed
Samsung Galaxy S7 rumor review
and you'll be up to speed in no time.