Samsung Galaxy S6 likely to get 20-megapixel main camera, new camera app with 'Pro' mode
19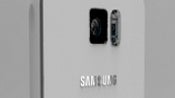 More evidence mounts that the Samsung Galaxy S6 will arrive equipped with a 20-megapixel main camera. The information comes from an insider opening up to SamMobile, saying that at least some of the working prototypes of the S6 feature a 20-megapixel shooter.
Those early Galaxy S6 models are also reported to come with a Samsung-made sensors with model numbers SLSI_S5K2T2_FIMC_IC and SLSI_S5K4E6_FIMC_IS. This is a particularly interesting development since the company has done a little back and forth: its Galaxy S5 arrived with a Samsung camera sensor, while the Galaxy Note 4 is unofficially reported to be using both Sony and Samsung sensors.
These early Galaxy S6 prototypes featured the following option for image resolution:
20MP (image resolution of 5952×3348)
15MP (image resolution of 4464×3348)
11MP (image resolution of 3344×3344)
8MP (image resolution of 3264×2448)
6MP (image resolution of 3264×1836)
2.4MP (image resolution of 2048×1152)
The front-facing, selfie camera is said to be the same one as what's used in the current Galaxy A series, which would mean a 5-megapixel shooter.
New 'Pro' mode will allow the Galaxy S6 to shoot RAW and control shutter speed
The fact that the Samsung Galaxy S6 and Galaxy S6 Edge are both expected to come running on the latest Android 5.0 Lollipop has allowed Samsung to update its camera app with a brand new 'Pro' mode. In the new 'Pro' camera mode on the Galaxy S6 users would be able to save images in RAW format as well as control shutter speed, both essential options for enthusiast smartphone photographers.
The Gallery app on the Galaxy S6 is also said to get a refresh and become more user-friendly with easier controls over how you delete images for instance. The visual style is also said to now include text along with icons to help users figure out what to do easier.
Finally, let us once again remind you that all of this information is based on an early prototype, and we've also been hearing about prototypes equipped with a 16-megapixel camera. While the 20-megapixel option does seem more likely at the moment, remember that it's all subject to last-minute changes.