Samsung Galaxy S6 explodes mid-flight on a China Airlines' jet
55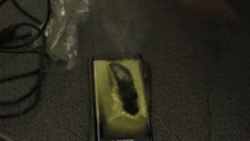 Just when you thought that there were no more exploding handsets to discuss comes the news that a
Samsung Galaxy S6
started smoking after exploding aboard China Airlines flight CI027, heading to Taipei. The owner of the phone received small burns to his hands. Kudos to the flight crew who acted quickly to put out the blaze using portable fire extinguishers, and the smoldering handset was stored in an ice bucket.
Pictures taken during the incident by some passengers on the flight, show a gloved flight attendant standing over the smoking phone. Other passengers appear to be turning their necks in order to see what is going on. What makes this a particular scary situation is that the plane's cabin is pressurized, which means that a fire could spread quickly.
Recently, a story came out that blamed the
Samsung Galaxy Note 7
explosions
on Samsung's attempt to make the battery used on the device as thin as possible
. A thin battery means a thin phone, which is what Samsung was aiming for. It also leaves room "under the hood" for Samsung to add a number of features that normally take up space inside the phone.
source:
PhoneRadar