Samsung Galaxy S6 edge: all the official images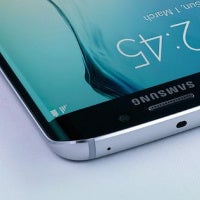 Ever since the
Galaxy Note Edge
was introduced, we were somewhat sure that Sammy will try to milk the concept of the overlapping display to the fullest. After all, it was arguably the first manufacturer to exploit this tech and the public seemed to favor the ingenious, sloping trait of the gadget.
This is probably one of the main reasons why the
Galaxy S6 edge
broke cover. It brings the philosophy of the sloping display to a whole new level - unlike the Note
Edge
, which overlaps to the right side only, the S6 edge has a dual-sloping display. Undoubtedly, this makes it not only one of the more intriguing phones of Samsung's of late, but also one of the more compelling smartphones that we've seen in a long time.
Here are all the official images of the Samsung Galaxy S6 edge.