Samsung Galaxy S5's Ultra Power Saving Mode is put to the test
66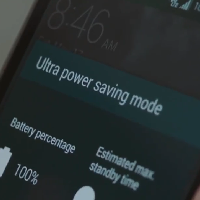 If you've seen
the recent commercial
for the
Samsung Galaxy S5
, you know how proud the manufacturer is of its Ultra Power Saving Mode. By going into this mode, the phone turns the screen from color to black and white, using a "simplified greyscale" theme. It also limits the number of apps that can be used. With 10% battery life remaining, this setting will give a Galaxy S5 user 24 hours of standby time.
Samsung decided to charge up the 2800mAh battery on a Samsung Galaxy S5, and take it on a cross-country road trip to see how far it could go without charging. Keep in mind that the Ultra Power Saving Mode is turned on right from the start, and is turned off from time to time in order to enable some apps.
Leaving New York City at 100% battery life, the Galaxy S5 was at 80% by the time it hit Nashville. Did the Galaxy S5 jump on stage at the Grand Ole Opry and wow the crowd by playing a selection of country tunes? No, it did not. But the phone did make it to Seminole, Oklahoma on day 3, with 73% of its battery life remaining. By day four in Amarillo, Texas, there was 51% battery life left.
Could the phone make it from the East Coast to the West Coast without a charge? In Las Vegas, the indicator read 17%. When the phone reached Venice, it had 7% battery life remaining. According to Samsung, the phone went 3504 miles and 7 days without needing to be charged. Of course, this is hardly typical use. By turning the Ultra Power Saving Mode on, most apps could not be used. And let's face it, if you were on a road trip and sitting in the passenger seat, you'd have your phone running social media non-stop, and you'd probably watch a movie or two on Netflix. On this road trip, 119 pictures were snapped, 86 texts were sent and 4 minutes of video were shot.
While this might have been an interesting experiment, in no way is this indicative of real-life. And we should point out that the
HTC One (M8)
has its own Extreme Power Saving Mode which came out of the box on international units, and was added via updates to all U.S. models except for those owned by Verizon customers.
source:
Samsung