Samsung Galaxy S5 vs Sony Xperia Z2 vs LG G2 specs comparison
48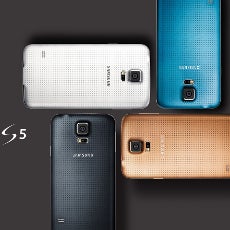 We can't help it but stage a fight between what will be the flagship handsets this spring season - the newly-announced
Samsung Galaxy S5
and
Xperia Z2
, and the reigning finest by LG - the
G2
. All three sport 1080p displays, processors of the Snapdragon 800 family, and high-resolution cameras, but there are more than enough differences to go around, too.
The Galaxy S5 is pretty close to the overall dimensions of the Z2, both being waterproof handsets. The G2 is much shorter and appears more compact, despite having the same 5.2" screen size as the Z2. It has a 13 MP camera, compared to the 16 MP on the S5, or the 20 MP of the Z2, but LG put optical image stabilization in it, so it still counters the other two.
Of the three handsets only the G2 doesn't have a microSD slot for storage expansion, yet it comes with 32 GB of memory out of the box. Sony tops the rest with its 3 GB of RAM, and is also the phone with the largest battery capacity. The Snapdragon 801 processors in the S5 and Z2 allow 4K video recording and selective focus in the camera app, while LG G2 makes do with "only" 1080p video recording.
Given the specs, you can't go wrong with either of these, and they have enough unique features that separate them, too. The LG G2 moved its physical buttons on the back, allowing for a more compact handset, and easier one-handed operation. The Galaxy S5 sports a Finger Scanner in the home key, as well as a heart rate sensor, while Sony's Z2 counters with stereo speakers and premium design. Which one would you pick this season?
IPS LCD
Super AMOLED
IPS LCD
Scratch-resistant glass, Ambient light sensor, Proximity sensor
Scratch-resistant glass, Ambient light sensor, Proximity sensor
Scratch-resistant glass, Ambient light sensor, Proximity sensor
Qualcomm Snapdragon 800 MSM8974
Qualcomm Snapdragon 801 MSM8974-AC
Qualcomm Snapdragon 801 8974-AB
Quad-core, 2260 MHz, Krait 400
Quad-core, 2500 MHz, Krait 400, 32-bit, 28 nm
Quad-core, 2300 MHz, Krait 400
Adreno 330
Adreno 330
Adreno 330
Android (5.0 Lollipop, 4.4.2, 4.2.2)
Android (6.0 Marshmallow, 5.1 Lollipop, 5.0 Lollipop, 4.4.4, 4.4.2), Samsung TouchWiz UI
Android (6.0 Marshmallow, 5.1 Lollipop, 5.0 Lollipop, 4.4.4, 4.4.2)
34.30 hours
the

average

is 17 h (996 min)
21.00 hours
the

average

is 17 h (996 min)
15.00 hours
the

average

is 17 h (996 min)
34.2 days (821 hours)
the

average

is 20 days (472 h)
16.2 days (390 hours)
the

average

is 20 days (472 h)
28.8 days (690 hours)
the

average

is 20 days (472 h)
21.30 hours
the

average

is 19 h (1110 min)
21.00 hours
the

average

is 19 h (1110 min)
19.00 hours
the

average

is 19 h (1110 min)
34.4 days (826 hours)
the

average

is 0 days (0 h)
30.8 days (740 hours)
the

average

is 0 days (0 h)
Single camera
Single camera
Single camera
13 MP (Sapphire crystal lens cover, OIS, Autofocus, BSI sensor)
20.7 MP (Autofocus, CMOS image sensor)
Aperture size: F2.4; Focal length: 29 mm; Sensor size: 1/3.06"; Pixel size: 1.12 μm
Aperture size: F2.2; Focal length: 31 mm; Sensor size: 1/2.6"; Pixel size: 1.12 μm
Aperture size: F2.0; Sensor size: 1/2.3"; Pixel size: 1.12 μm
1920x1080 (Full HD) (60 fps)
3840x2160 (4K UHD) (30 fps), 1920x1080 (Full HD) (60 fps)
3840x2160 (4K UHD)
OIS
HDR, Continuous autofocus, EIS, Video calling, Video sharing
HDR
2.1 MP
2.1 MP
2.2 MP
1920x1080 (Full HD) (30 fps)
1920x1080 (Full HD)
1920x1080 (Full HD)
5.45 x 2.79 x 0.35 inches (138.5 x 70.9 x 8.9 mm)
5.59 x 2.85 x 0.32 inches (142 x 72.5 x 8.1 mm)
5.78 x 2.89 x 0.32 inches (146.8 x 73.3 x 8.2 mm)
5.04 oz (143.0 g)
the

average

is 6.5 oz (184 g)
5.11 oz (145.0 g)
the

average

is 6.5 oz (184 g)
5.75 oz (163.0 g)
the

average

is 6.5 oz (184 g)
Water, Dust; IP67
Water, Dust; IP58
Notification light
Touch sensitive control keys, Interchangeable covers, Notification light