Samsung Galaxy S5 vs S4 vs Note 3: specs comparison
43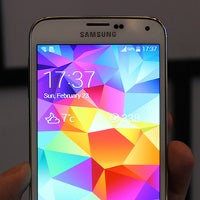 The much-hyped Samsung Galaxy S5 has just arrived and it's a gradual evolution over last year's Galaxy S4, and an even milder one when compared against the Galaxy Note 3. Samsung says it has gone back to the basics when creating the Galaxy S5, and this effort resulted in two big new features - a fingerprint scanner built right in the home key (hello, iPhone 5s) and a heart rate monitor positioned right below the rear camera.
We'll take a separate look at these two, but one thing we're particularly curious is just sheer performance. With no Quad HD (QHD) display on board, some of the excitement about the Galaxy S5 will die down, but fact remains that it's a powerful smartphone on par with the top competitors out there.
Some of these competitors are Samsung's own devices - the preceding Galaxy S4 and the 5.7-inch Galaxy Note 3 phablet. How much of an improvement is the Galaxy S5 over them? Take a look at the table below to find out.
Super AMOLED
Super AMOLED
Super AMOLED
Scratch-resistant glass, Ambient light sensor, Proximity sensor
Scratch-resistant glass, Ambient light sensor, Proximity sensor
Scratch-resistant glass, Ambient light sensor, Proximity sensor
Qualcomm Snapdragon 600 8974
Qualcomm Snapdragon 800 MSM8974
Qualcomm Snapdragon 801 MSM8974-AC
Quad-core, 1900 MHz, Krait 300
Quad-core, 2300 MHz, Krait 400
Quad-core, 2500 MHz, Krait 400, 32-bit, 28 nm
Adreno 320
Adreno 330
Adreno 330
Android (5.0 Lollipop, 4.4.2, 4.3, 4.2.2)
Android (5.0 Lollipop, 4.4.4, 4.4, 4.3)
Android (6.0 Marshmallow, 5.1 Lollipop, 5.0 Lollipop, 4.4.4, 4.4.2), Samsung TouchWiz UI
25.00 hours
the

average

is 17 h (996 min)
21.00 hours
the

average

is 17 h (996 min)
22.0 days (528 hours)
the

average

is 20 days (472 h)
16.2 days (390 hours)
the

average

is 20 days (472 h)
17.00 hours
the

average

is 19 h (1110 min)
21.00 hours
the

average

is 19 h (1110 min)
21.00 hours
the

average

is 19 h (1110 min)
15.4 days (370 hours)
the

average

is 0 days (0 h)
17.5 days (420 hours)
the

average

is 0 days (0 h)
13.3 days (320 hours)
the

average

is 0 days (0 h)
15.8 days (380 hours)
the

average

is 0 days (0 h)
62.00 hours
84.00 hours
67.00 hours
11.00 hours
13.00 hours
13.00 hours
Single camera
Single camera
Single camera
13 MP (Autofocus, CMOS image sensor, BSI sensor)
13 MP (Autofocus, CMOS image sensor, BSI sensor)
Aperture size: F2.2; Focal length: 31 mm; Sensor size: 1/3.06"; Pixel size: 1.14 μm
Aperture size: F2.2; Focal length: 31 mm; Sensor size: 1/3.06"; Pixel size: 1.12 μm
Aperture size: F2.2; Focal length: 31 mm; Sensor size: 1/2.6"; Pixel size: 1.12 μm
1920x1080 (Full HD) (30 fps)
3840x2160 (4K UHD) (30 fps), 1920x1080 (Full HD) (60 fps), 1280x720 (HD) (120 fps)
3840x2160 (4K UHD) (30 fps), 1920x1080 (Full HD) (60 fps)
EIS
Continuous autofocus, Video light, EIS, Video calling
HDR, Continuous autofocus, EIS, Video calling, Video sharing
2 MP
2 MP
2.1 MP
1920x1080 (Full HD) (30 fps)
1920x1080 (Full HD) (30 fps)
1920x1080 (Full HD)
5.38 x 2.75 x 0.31 inches (136.6 x 69.8 x 7.9 mm)
5.95 x 3.12 x 0.33 inches (151.2 x 79.2 x 8.3 mm)
5.59 x 2.85 x 0.32 inches (142 x 72.5 x 8.1 mm)
4.59 oz (130.0 g)
the

average

is 6.5 oz (184 g)
5.93 oz (168.0 g)
the

average

is 6.5 oz (184 g)
5.11 oz (145.0 g)
the

average

is 6.5 oz (184 g)
Back: Plastic
Back: Plastic
Notification light
Stylus, Interchangeable covers
Touch sensitive control keys, Interchangeable covers, Notification light