Samsung Galaxy S5 versus .50-caliber sniper rifle
27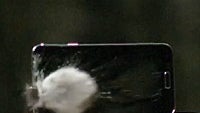 The new
Samsung Galaxy S5
is all that. It's water resistant, dust resistant, and packs a whole lot of features created by Samsung to make its new flagship the all-in-one for everyone.
In what is almost becoming a rite of passage, Rick Ryan, the "tech assassin," has the Galaxy S5 in his sights and he has brought the big gun to bear. The .50-caliber Barrett is a heavy hitting, yet precise tool, and one shot provides extraordinary results.
Of course, it really isn't about the act of shooting the phone itself. In real-time, it all happens in the blink of an eye, and you can't really tell what happened. One second it's there, the next, it's not. However, when things are put through the slow-motion treatment, the action Ryan puts together lets us see what happens to our favorite gadgets as they disintegrate.
The Galaxy S5 is
one awesome device though
, it also scored top marks in
our battery endurance testing
. It is also packing the latest in bio-metric goodness with a fingerprint sensor as well as heartbeat monitor. As you should already know, there is no heartbeat in the S5 after the shot is taken (that's actually the case with just about anything shot with a Barrett come to think of it).
source:
RatedRR
(YouTube)