Samsung Galaxy S5 rumored to arrive with 4 GB of RAM, made possible by the 64-bit Exynos
99+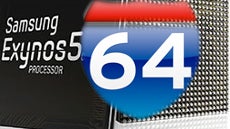 South Korean IT publication once again reiterates that
Samsung's 64-bit Exynos processor is in final stages of preparation
before it enters the production line. This time a new nugget of info is added, though, namely that the new Exynos might be known as the 6-series, to differentiate from the
Exynos 5 Octa
chipset we have now that is a 5-series representative, and at the same time hint at the 64-bit nature of the upcoming mobile silicon.
There is one other claim in the article, and it's a pretty significant one - the 64-bit architecture will allow addressing much larger RAM quantities, and that's exactly what Samsung is planning to take advantage of. The source mentions that not only is the next edition
Galaxy S5
going to be blessed with the 64-bit Exynos in question, but it will also sport 4 GB of RAM, marking a new record for a smartphone. This will undoubtedly set it apart from the competition for the foreseeable future, if it pans out, be it just for bragging rights.
We are just curious whether Samsung will continue with the tradition to launch its flagship with different processors, depending on the market, as the gap from an eventual Exynos 6-series and 4 GB of RAM in the Galaxy S5 to any other chipset configuration for the handset seems pretty wide for potential customers to stomach.
Recommended Stories