Exynos 5420 Octa shown utilizing all of its eight cores simultaneously
40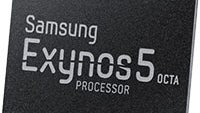 Samsung's in-house foray into thesemiconductor's industry in the form of its Exynos SoCs has, undeniably, managed to etch a spot for itself. But though we see it in somehigh end, modern devices, there are those of us who have beenpondering whether Samsung's sheer size has played an integral role inits continued survival, more so than its own merits. And while thosesure are abundant, an overarching concern has been on the agenda forthe past year as far as the last two models of the SoC are concerned.Namely, while ARM's big.LITTLE platform sounds great on paper, theExynos 5410 and 5420 have been unable to take advantage of all eightCortex cores simultaneously.
Untilthe other day, when Samsung announced that the Exynos 5420 Octawill finally support Heterogeneous Multi-Processing (HMP), or saidotherwise – it will finally allow the chipset to take advantage ofall eight cores' computing muscle at the same time.
Deciding to visually showcase whatHMP means, ARM, on whose platform the Exynos is based, has released atrio of short clips exemplifying the behavior of the chipset underseveral real world scenarios, and has also demoed the usefulness ofGPUCompute. As you're about to witness for yourself, the four smaller, Cortex-A7 cores are capable enough to handle most of the typical tasks a user goes through on his smartphone, but they will be now backed by the other four, more powerful Cortex-A15 cores whenever 'typical' just doesn't cut it.
via: AnandTech