Samsung Galaxy S5 extended batteries now on pre-order from ZeroLemon and Mugen Power
16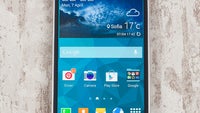 There's no denying that the
Samsung Galaxy S5
is a top performer when it comes to battery life. Need proof? Well, we
put the phone's 2800mAh cell to the test
, and it took a whopping 8 hours and 20 minutes for our custom battery benchmark to drain it entirely. This ranks Samsung's flagship ahead of many high-end competitors, including the
iPhone 5s
, the HTC One (M8), and the
LG G2
.
But as stellar as the Galaxy S5's battery life may be, some users might still find its cell's capacity insufficient for their needs. These are the people that ZeroLemon and Mugen Power, two of the better-known makers of extended cell phone batteries, cater to.
Mugen Power is currently offering a 2950mAh lithium-ion battery for the Samsung Galaxy S5 – a cell that should last about 5% longer than a stock one, according to the manufacturer. For those in need of a spare cell for their Galaxy S5, or for an extended battery that does not add any extra bulk to the device, this is an option worth considering. NFC is built into the pack so don't worry about losing the feature once you swap.
ZeroLemon's approach to designing an extended battery for the Galaxy S5 has been quite a bit different. The company has built a pack that can hold 7500mAh of charge, making it more than 2.5 times more capacious than the phone's stock cell. There's a catch, however. The extended battery is so large that it requires you to swap the Galaxy S5's back cover with one provided by ZeroLemon (included in the set). The battery will also make your Galaxy S5 significantly heavier. Another drawback is that you might not be able to use the phone's heart rate monitor as comfortably with all that protruding plastic around it. On the brighter side of things, this replacement back cover doubles as a protective case.
The Mugen Power extended battery for Samsung Galaxy S5 is now on pre-order for $44.50 and it is expected to ship on May 23. As for ZeroLemon's solution, its gargantuan cell can be pre-ordered from Amazon for $49.99 and will ship on May 14.