Samsung Galaxy S4 Google Play edition no longer available
6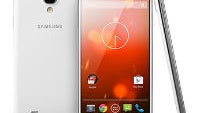 Not too long ago, there was a wealth of options in the Google Play Store if you wanted to pick up an Android smartphone or tablet. Now, there are really only four total options - two Nexus devices and two Google Play edition devices - because the Samsung Galaxy S4 Google Play edition has suddenly disappeared from the Store.
Just under one month ago, Google did some
summer cleaning
in the Play Store and removed the HTC One (M7), Sony Z Ultra, and LG G Pad 8.3 from the Google Play edition lineup. Those changes were somewhat expected given that there is a newer HTC One GPe available (the M8) and the other devices had been listed as out of stock since June. Now, the Galaxy S4 GPe has disappeared, but there are no signs of a Samsung Galaxy S5 Gpe to take its place. There have been rumors of an S5 GPe, but nothing more than that.
This means that the only GP3 devices left for sale in the Play Store are the Moto G and the HTC One M8. Both are listed as in stock, and don't appear to be going anywhere. It is possible that the Google Play edition cull is a lead up to the Android Silver program launching, which is expected to be essentially Google Play edition devices in carrier stores with Google support. But, the general word has been that Android Silver won't be seen until next year.