Some Google Play edition devices disappear from the Play Store
16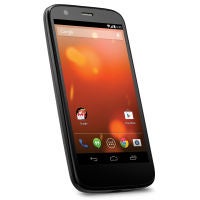 There are some strange things happening in the Google Play Store tonight. With no warning or explanation, Google has chopped the Play edition Android device roster in half. Three Google Play edition (GPe) devices are gone, and now there are only three GPe left to purchase in the Play Store.
The roster of Google Play edition devices had included six devices: the HTC One (M8), the Moto G, the Samsung Galaxy S4, the HTC One (M7), the Sony Z Ultra, and the LG G Pad 8.3. But tonight, the last three of those listings disappeared. This isn't exactly a surprise though, because those three devices went out of stock last month, and have been unavailable for purchase ever since. It is surprising which devices are gone though.
The HTC One (M7) makes sense, because it was replaced by the newer M8, but the Sony Z Ultra and LG G Pad haven't been in the store all that long. We would have expected the Galaxy S4 to be replaced with a Galaxy S5 GPe, but maybe the Z Ultra and G Pad simply proved to not be very popular with customers. Whatever the reasons, you'll only have three Google Play edition devices to choose from if you want to buy from the Play Store.