Samsung Galaxy S10e leaks out in full
42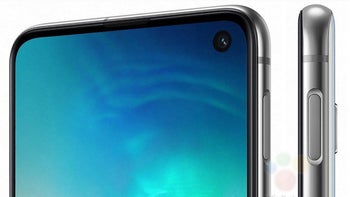 The
Samsung Galaxy S10e
, the most affordable in the family of upcoming S10 phones by Samsung, has now leaked out in both real-life hands-on pictures and in high-res photos weeks before the official reveal.
The high-res renderings
come from one of the most reliable leaksters out there
, Rolandt Quandt of Winfuture.de, while the hands-on photos show a
prototype S10e from an anonymous source
. Combine them together and you get a very comprehensive picture of what the Galaxy S10e will actually look like.
So here is a round-up: all leaks agree that the Galaxy S10e will be the most affordable among the new S10 phones, much like the iPhone XR stands to the XS series. The main stand-out features of the S10e will be a flat display which appears to have slightly larger bezels, a fingerprint scanner embedded in the power button on the side, and a dual rear camera. The more expensive S10 and S10 Plus, on the other hand, will feature curved screens, fingerprint scanner embedded inside the screen and a triple camera system.
Dual cameras and a fingerprint scanner on the side
The Galaxy S10e will be offered in the same three colors like the S10 and S10 Plus: a white, green and black model.
Galaxy S10e, front: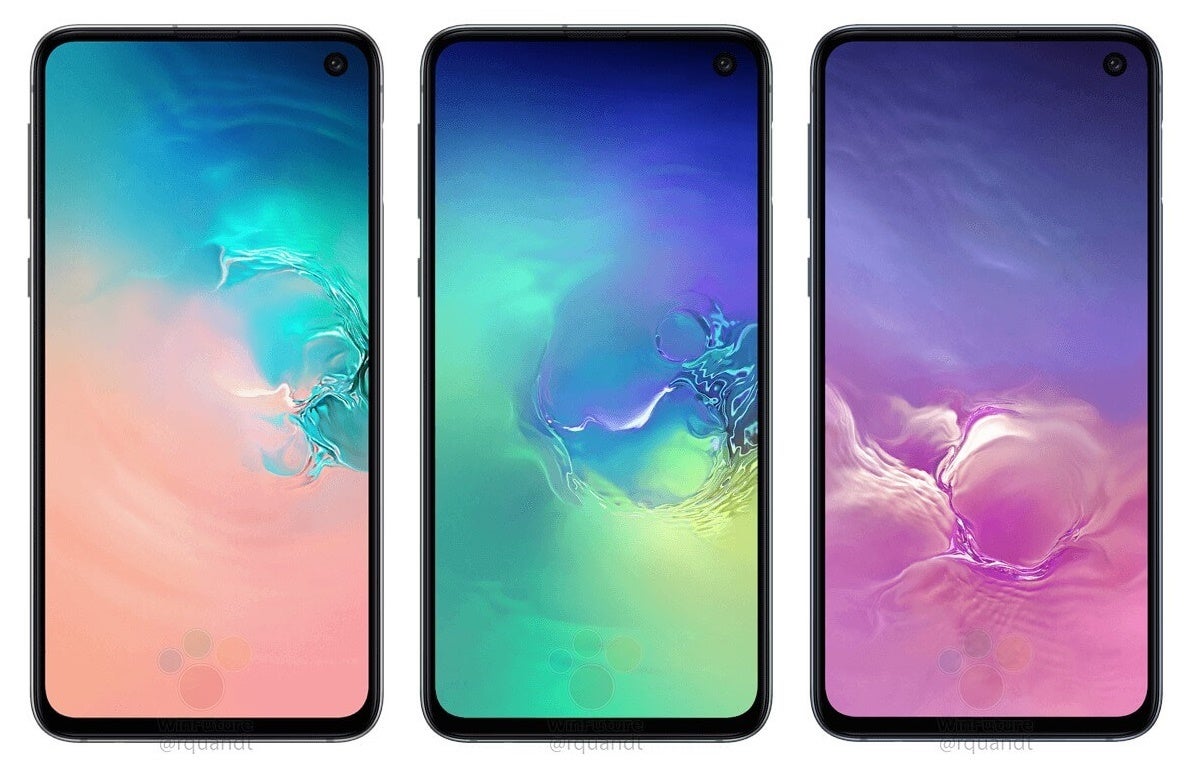 Galaxy S10e, back: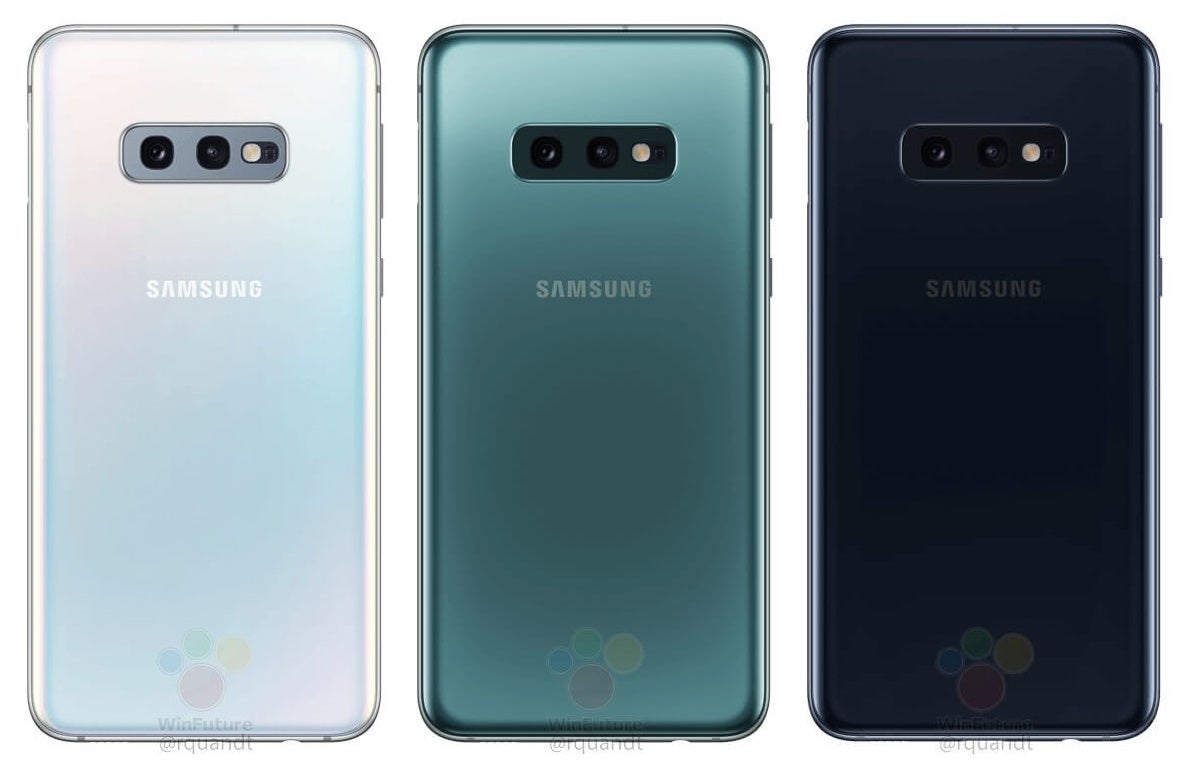 Galaxy S10e in its three colors (white, green and black)
S10 Models At a Glance
Another 5G S10 model is rumored too, but that one shapes up to be a super premium, limited edition phone that could cost ~$1,500
So how does the Galaxy S10e compare against the flagship S10 and S10 Plus models?
There will be a noticeable difference in the price, but at the fundamental level, all three phones will share the same Snapdragon 855 processor and the base models of all three phones will feature 6GB of RAM and 128GB of storage. This ample amount of storage is great news and it will be one competitive advantage Samsung will hold over iPhones that offer only 64GB of on-board storage, with no option to expand that.
So far, the leaked photos reveal a Galaxy S10e with two cameras, a main one with variable aperture (f/2.4 during the day and f/1.5 at night, similar to S9 and Note 9) and a secondary telephoto camera for portraits. The Galaxy S10 and the S10 Plus, on the other hand, will feature a triple-camera system with the third one being an ultra-wide angle camera that will cover a wide, 123-degree field of view. Up front, the S10e and the S10 will have single punch-hole cameras for selfies, while the S10 Plus will feature dual front cameras with the secondary one allowing the phone to capture wide-angle group selfies.
The other big difference will be in the screen and battery sizes. The S10e will have the tiniest battery at 3,100mAh, while the S10 will up the ante to a 3,400mAh battery size and the S10 Plus will have the largest battery at an impressive 4,100mAh capacity.
Galaxy S10e
Galaxy S10
Galaxy S10 Plus
Colors
Black, Green, White
Blue coming later
Black, Green, White
Blue coming later
Black, Green, White
Blue coming later
Ceramic black and ceramic white possible
Processor
Snapdragon 855 / Exynos
Snapdragon 855 / Exynos
Snapdragon 855 / Exynos
Display
5.8" Super AMOLED, flat
6.1" Super AMOLED, curved
6.4" Super AMOLED, curved
Memory
6GB RAM / 128GB storage + microSD
6/128GB, 8/512GB + microSD
6/128GB, 8/512GB, 12GB/1TB + microSD
Rear Cameras
Dual camera
Triple camera
Triple camera
Front Cameras
Single camera
Single camera
Dual camera
Battery
3100 mAh
3400 mAh
4100 mAh
Security
Fingerprint on the side, embedded in power button
In-screen fingerprint
In-screen fingerprint
Price
~$750
from ~$900
from ~$1,000
Real-life Galaxy S10e Photos
And if you are not still convinced that the Galaxy S10e will indeed look like the images above, someone in China photographed a prototype Galaxy S10e that they had and it looks exactly like the renderings.
The only thing that is more striking in these hands-on pictures is how big the selfie camera looks on the S10e compared to the renderings.
You can also see that Samsung has definitely settled on the S10e name and all previous rumors about this being called an S10 Lite should probably be put to rest. After all, it does not make much sense for Samsung to name a premium phone that costs more than $700 a "Lite" edition, and the phone itself has top-tier processor and cameras, so it would not fit well in a "Lite" brand name.
So... what do you think about the Galaxy S10e?
Do you think Samsung's version of the iPhone XR will be successful? Would you be willing to save $250 dollars to get this model rather than the higher-end S10 and S10 Plus?