Samsung Galaxy S III vs Apple iPhone 4S drop test is for real (video)
90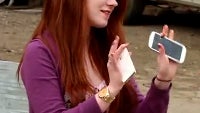 Sure enough any "drop test" mention is just enough to catch our attention, but when it involves two expensive flagship phones, representing the two most talked about mobile operating systems, we double down on curiosity.
In a non-scientific (these are the best) drop test, the
Samsung Galaxy S III
and the
Apple iPhone 4S
, both in white, were pitted against each other, but with one common enemy - the ground, covered in concrete pavement.
The phones were dropped from roughly the same height on their backs, sides and fronts with various degrees of external and internal damage, but we are not going to spoil the end result for you, so watch a redhead smash your favorite handset in the name of science for some great start-of-the-week entertainment.