Samsung Galaxy S III made by 75,000 workers; phone is the fastest selling gadget of all-time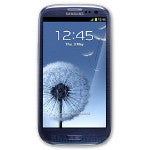 With
reports that the Samsung Galaxy S III has pre-orders for 9 million units
, the handset will be
the fastest selling gadget ever
. The 9 million figure will top the 8 million units of Microsoft Kinect sold in a 60 day period. So how many people does it take to produce huge quantities of the eagerly awaited handset?
ExtremeTech
decided it would find out, so they went back through some releases and news stories, opened the calculator on their phones, and figured out that it takes 75,000 workers to produce the 9 million units of the Samsung Galaxy S III and the additional millions more in sales that will be coming. Keep in mind that this is just a quick back of the envelope figure and the actual number could be a whole lot more, or a whole lot less.
Double that and viola, you get roughly 76,800 factory workers
. It is important to understand that the parts used in the Samsung Galaxy S III from the OLED screen to the quad-core exynos processor and the RAM and NAND flash, are all made in-house by Samsung.
Some other interesting points were mentioned by
ExtremeTech
include a huge pay discrepancy between Chinese and Korean workers assembling the Apple iPad. Chinese workers get $8 per Apple iPad assembled while Korean workers doing the same job receive $34 per tablet. The average monthly wage for a Chinese Foxconn worker is $400 vs. $2000 for the Korean worker. This means that Samsung has a much higher overhead than Apple has when it comes to manufacturing its mobile devices. The 75,000 making the Samsung Galaxy SIII
represents about 10% of Sammy's total payroll
and more than Google's entire payroll.
source:
ExtremeTech
via
AndroidAuthority