Samsung Galaxy S III for AT&T loses its local search feature
19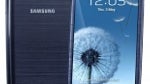 "Samsung has updated the software for the Galaxy S III as a precautionary measure to ensure that U.S. consumers may enjoy using our innovative products without interruption."-Statement from Samsung
Thanks to the so-called Siri patent, Samsung has sent out an update for the AT&T version of the Samsung Galaxy S III
that disables the units' ability to do local search.
This universal search function is at the heart of the '604 patent that is the main focus of recent court rulings that have ordered a
preliminary injunction on the Samsung GALAXY Tab 10.1
and the Samsung GALAXY Nexus. The injunction on the latter has been stayed by a Federal Appeals Court as it listens to an appeal from Samsung. While the Samsung Galaxy S III is not a focus of the legal battles, at least for now, Samsung says it is removing local search as a precaution so that U.S. owners of the device can enjoy using them without interruption.
Sprint customers have
already had the feature stripped from their Samsung Galaxy S III
.There is no word on when the Verizon and T-Mobile versions of the sizzling hot handset
will lose their ability to conduct local search
. The
Samsung GALAXY Nexus already has had the update
which has removed the offending feature and has allowed sales of the phone to continue. And while it isn't the most important function of using the device, it was a feature that still came in handy at times. If the legal battles end in Android's favor, we're sure that the Korean based manufacturer will be happy to send out another update to reverse the last one.
source:
PhoneScoop