Is this the update that lets the Samsung GALAXY Nexus come back to the market?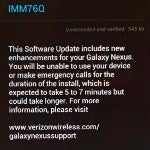 the injunction on the Samsung GALAXY Nexus temporarily halted
for as long as the next two weeks while the U.S. Court of Appeals for the Federal Circuit makes a final ruling on the injunction,
an update for the handset is apparently being tested
. Software version IMM76Q, found on a screenshot posted by an XDA member, is only 945KB which suggests that it is the update that removes local search from the phone. Removing local search will prevent the model from infringing on the so-called '604 Siri patent on unified search. It is this patent that has enabled Judge Koh to slap the now temporarily halted injunction on the model. Instead of being able to search for something on the phone, Samsung GALAXY Nexus users will have to settle for a search of the internet.
It turns out that the XDA member whose phone is the subject of the photograph showing the update, could be a tester. The
phone has a serial number on top of the device
and no one else has claimed to have received the update. If he is a tester, it could be some time before the update is pushed out to the public. But with the ruling of the Federal Appeals Court freezing the ban on the phone for now, it is conceivable
with the right rulings, that this update may never see the light of day
.
While some Samsung GALAXY Nexus users have been posting on forums that they are excited about the update, perhaps we should explain this slowly. The update is going to be removing functionality on the phone, not adding to it. With the current hold on Judge Koh's injunction,
we could see the Samsung GALAXY Nexus return to the Google Play Store next week
, as has been rumored, with Android 4.1 installed.
source:
XDA
via
DroidLife