Samsung Galaxy S III first press image appears, announcement set for May 22nd?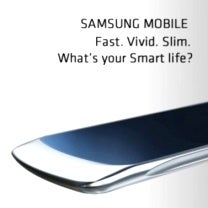 The
Samsung Galaxy S III
, undoubtedly the most anticipated Anrdoid handset for 2012,
will get officially announced on May 22nd
, if we are to trust this very realistic invitation to a press event in London. The flyer looks very small and realistic, but previously we've seen some pretty
good mockups
too, so we'd definitely take this with a grain of salt. The press image surfaced on Korean website Daum hours ago.
The press invitation teases:
"Samsung Galaxy S III, New Generation Coming, May 22nd, London, United Kingdom."
We should also remember that London is where the Summer Olympics will be held this year, and this looks like one of the reasons why Samsung picked the UK for the unveiling.
"Fast. Vivid. Slim,"
Samsung summarizes about the upcoming Galaxy S III. Nearly half of the handset appears on the right side of the invitation flyer, and it's got some weird curves and shapes, looking very different than its rectangular right shaped predecessor, the S II. The handset also has a strange carving on the side, and we have no idea whether it has any other function than to please the eye and puzzle the press.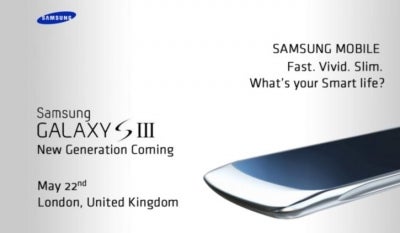 It's obviously hard to judge about the actual dimensions, but it seems that the screen is comparatively narrow. Just yesterday, we heard Korean sources point out they expect a
4.65-inch Super AMOLED Plus HD display
, the first RGB (non-pentile) HD AMOLED screen ot there. Now, this rumor ups the estimate to 4.8-inches, so we're not yet sure what the actual size will be, but the HD resolution seems like a lock.
Interestingly, the Korean publication Daum suggests there will be
two S III models
- one with LTE connectivity (the Samsung Galaxy S III LTE for markets like the US, obviously) and a "3G" version for the rest of the world where LTE is not yet present (possibly, Galaxy S III 3G). Now, it also cautions us that the LTE version might take longer to make it to shelves, and could arrive sometime in July.
The Galaxy S III is expected to feature a quad-core processor, and if it manages to fit in the tight plans, the 32nm Samsung Exynos 4412.
How do you like what you see? And how credible you think it is?