Mock-up time: Galaxy S III
41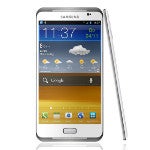 WARNING

: The following material is for diehard Galaxy S III fanatics only!
Sure, the
Samsung Galaxy S III
is among the hottest smartphones expected to arrive this year, but should almost every new rumor/leak be accompanied by yet another suspicious-looking mock-up? Well, why not?! Mock-ups are not only fun, but, as we know, sometimes we do get to set our eyes on the real thing, eventually proving that the image hasn't been a mock up...
That said, you might have noticed that we've seen a good number of Galaxy S III mock-ups appear over the last few months, some of which quite convincing (others not so much), and we're not even counting the ones specifically tagged as fan concepts. Whether or not any of those designs may turn out to be real is still beyond us. However, we thought it might be fun if go out and gather all of those bad boys, so that everyone can take a good look at them here, in the gallery below. We've also made sure to put a short description next to each one, as well as some rumored specs associated with it.
Well, what more can we say - in case the Galaxy S III is the first thing you think about when you wake up in the morning, then we guess you'll simply love our sweet mock-up collection below!
Which is your favorite Galaxy S III mock-up? Do you believe that some of these is the real thing? By the way, if you want to know more about the Samsung Galaxy S III, be sure to check out our comprehensive article:
Samsung Galaxy S III: design, specs and release date rumors
.