Samsung Galaxy S III explodes in a boy's bed
55
A three-year old
Samsung Galaxy S III
was left charging overnight in Kajaani, Finland, and the phone subsequently exploded. The boy who owned the handset was in bed with the device at the time of the explosion. The incident left a gaping hole that started with the sheets and worked down to the mattress. The Galaxy S III was a complete loss. The parents do not plan on contacting their insurance company or Samsung, because they feel that it will be a wasted effort due to the age of the unit.
The boy's mother said that her son had awoken before the smoke alarm was triggered. She added that the family had learned a valuable lesson from the explosion. "We've at least learnt (sic) now only to charge phones during the day, and nowhere near fabric or flammable materials," she said. Based on the the reports of the explosion, it seems that no one was hurt by the blast.
In many of these cases, a faulty third-party charger is to blame, especially when it comes to older models where the original accessories might have ended up missing over time. However, there is no evidence that this was the case in this situation.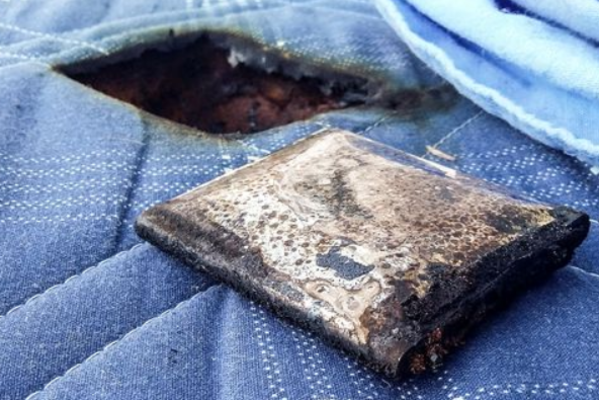 This is what the Samsung Galaxy S III battery looked like after exploding and creating a hole in this bed
Thanks for the tip!
source:
Yle.fe