Samsung Galaxy S II update to bring larger icons, OTA updates widget
54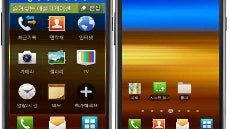 UPDATE:
It seems that the Big Home update is an optional layer to aid people of older age who can't see the smaller icons well. It also includes larger calendar and other widgets to help with readability.
Samsung is reportedly preparing a minor update for the Samsung Galaxy S II handset, that addresses some functionalities that we don't really see as pressing, but good to have nonetheless.
The Big Home update increases the icon size with 30%, making them larger on the already big 4.3" display, and easier to press. Thus you will have three big shortcut icons in the dock at the bottom of the screen, instead of four, and the main menu will be shrunk to a 3x3 grid now.
This might very well have to do also with
Apple's patent infringement lawsuits
, and show the judges Samsung is taking measures to reduce any similarities on the software side of things.
Samsung is also adding a System Update widget to the list, which will display the current software version, and notify you of any updates available for the OS, its overlay or the native apps.