Samsung Galaxy S II supports HDMI-out, after all, and can have live TV streamed to it
3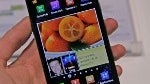 Similar to the Samsung Galaxy S, the sequel
Samsung Galaxy S II
can mirror its screen via an HDMI cable to a big screen TV. Samsung was selling this cable connector that plugs into the microUSB port, and allowed for HDMI-out on your Galaxy S for around $50, and we just checked it still can be found for the Galaxy S phones between $40-$50.
The Samsung Galaxy S II will also have this capability thanks to the Mobile High-Definition Link (
MHL
) standard, that is rolled into the existing microUSB port on the phone. It shrinks down the required 19 pins for an HDMI cable to 5, making it possible to place everything into one port. The MHL iteration in the Galaxy S II won't charge the phone via the HDMI cable, despite the standard allows for that, until MHL-enabled TVs start to ship later this year.
When a microUSB cable is plugged, it recognizes the impedance, and goes into charging/data mode, whereas if you plug in the MHL cable connector to HDMI, it will go into, well, stream-that-show-to-your-big-screen-TV mode. Nice, and, if Sammy bundles the cable in the box, we are sold. After all to
use the HDMI port on your phone
you also have to have a dedicated cable, so who needs HDMI, if you can have just one MHL-capable port. Have a look at a video demo how MHL works after the source link.
We are curious if the proprietary port on the
Samsung Galaxy Tab 10.1
allows MHL too, which would explain the lack of an HDMI port on the tablet. Even if it doesn't, the slate has its own tricks. Couple it with Samsung's new Smart TVs from the upcoming D7000 and D8000 model families, and it can accept
live TV signal
from the TV's tuners. Same goes for the Samsung Galaxy S II, and we are sure this feature won't go without a highlight when the devices ship.
source:
Pocket-lint
&
Engadget