Samsung Galaxy S 4 launching with global LTE at the end of April
21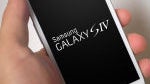 We're still pretty early on in the
announcement of the Samsung Galaxy S 4
at Radio City in New York City, but we've already gotten a ton of information. It seems as though Samsung understands that all of the info has been leaked, so it is just running through bullet points at a break-neck pace. But, that also means we already have one of the key bits of info: the release date.
When Samsung's JK Shin came out, he ran through the bullet points, and one of the key bits of info was that the Galaxy S 4 will be
launching on 327 carriers in 155 countries starting at the end of April
. The S 4 will also include global LTE roaming, with 3G and LTE models in multiple bands.
No pricing yet, or specifics on a regional rollout strategy, but we'll update this as we get more.