Samsung Galaxy Round is a prototype, will have limited production
26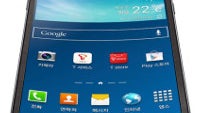 When it was first unveiled, there were those who said that the
Samsung Galaxy Round
curved smartphone was nothing more than a prototype, a proof-of-concept, rather than a device that would be aimed at the general public. That theory always struck us as a reasonable one (and one that we tend to apply to the Samsung Galaxy Gear as well).
A new report is saying that the Galaxy Round is indeed a prototype device, and it will have limited availability even in Samsung's home of South Korea. According to SamMobile, Samsung is following the same path it did with the SCH-W850, which was used to test the first AMOLED displays, and the
Samsung Galaxy S II HD LTE
, which was produced in limited quantities in order to test HD AMOLED.
Similarly, the Samsung Galaxy Round is a product designed to test out the new flexible OLED displays, which are still something of a novelty. Even the first two flexible display devices from Samsung and
LG
can't agree on which direction the display should be curved, so there is clearly work to do in figuring out how to best use this new technology.