Samsung Galaxy Note versus Samsung Galaxy S II: spec comparison
36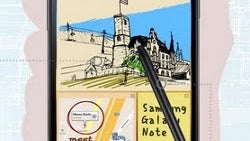 Have you heard about the
Samsung Galaxy Note
? We barely knew about the smartphone supernova until it hit us with its
gargantuan 5.3-inch screen
with impressive resolution of 800 x 1280 pixels and 180 degree viewing angles.
It scores a couple of industry firsts except for the screen - most notably the tucked in
S Pen stylus
, which might not be exactly a new feature for smartphones, but it certainly seems new for modern platforms. Its connectivity package is pretty comprehensive with both
LTE and HSPA+ radios
, backed up by a 2,500mAh battery, the biggest we've seen in a smartphone.
But after the initial excitement, we've quickly peeked at the current Samsung flagship - the
Samsung Galaxy S II
. How does the new Galaxy Note fare against the S II? We've cold bloodedly put the specs of both devices side-to-side and the Galaxy Note seems to win in almost every category, but probably for the first time we're starting to wonder: is bigger necessarily better this time around?