The Samsung Galaxy Note 10 will be massive according to tipster
30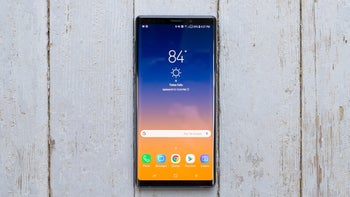 The Samsung Galaxy Note 9
Over the past few years, Samsung's mobile strategy has seen the creation of three flagship smartphones per year – two Galaxy S models and one Galaxy Note. According to recent info, though, this number will increase to five in 2019. And now, thanks to tipster
Ice Universe
, the exact display sizes of each model have been revealed.
Kicking things off with the largest models of all, next year's Galaxy Note 10 will come equipped with a ginormous 6.75-inch display according to the source. This means that it'll be quite a bit larger than the existing
Galaxy Note 9
, despite the significantly smaller bezels, and much bigger than the
Galaxy S9+
.
While on the topic of the Galaxy S series, the upcoming
5G Galaxy S10
will reportedly feature a massive 6.66-inch display. This smartphone will be accompanied by the Galaxy S10 (which may be called
the Galaxy S10 Edge
) and the larger Galaxy S10+. These are said to feature 6.11 and 6.44-inch displays respectively. For comparison, the Galaxy S9+ ships with a 6.2-inch display and the Galaxy Note 9 features a 6.4-inch panel.
Completing the Galaxy S10 series will be the cheapest model of all, the
Galaxy S10 Lite
, which looks set to launch with a 5.75-inch display – pretty small by today's standards. The device will be slightly smaller than the current-generation Galaxy S9 thanks to the 0.05-inch decrease in display diagonal and much thinner bezels.
The Galaxy S10 series is currently expected to make its first official appearance at an event held
on February 20
. There is no news on the Galaxy Note 10's announcement date yet but if recent history is anything to go by, an unveiling in early August is highly likely.
Recommended Stories