Samsung Galaxy Note III to be announced on September 4, Korean media claims
17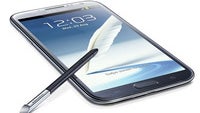 Samsung Galaxy Note III – we all know it is coming sooner than later. The exact date of its announcement, on the other hand, is not as clear, but according to a recent report by Korean media, the tech company has chosen to make the unveiling of the device on
September 4
. That is two days before the IFA2013 expo kicks off in Berlin, Germany – the city where the Samsung Galaxy Note III announcement is expected to take place. As a side note, previous rumors hinted at a
possible announcement of the Galaxy Note III on September 6
.
In addition to the Galaxy Note III, Samsung is expected to announce a wearable product as well. Referred to as the Samsung Gear, it is a smartwatch device, presumably similar in functionality to the
Sony Smartwatch
. Word has it that Samsung is aiming to launch Gear before Apple manages to release an alternative of its own –
the so-called iWatch
.
As for the Samsung Galaxy Note III, the smartphone is expected to come with a 5.7-inch, 1080p AMOLED screen, Snapdragon 800 chip, 13MP camera, and Android 4.3 out of the box. These specifications, however, might vary from one market to another as according to rumors, the Samsung Galaxy Note III may come in several different versions.