Samsung Galaxy Note II used to announce winners at American Music Awards
20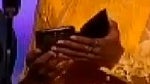 The American Music Awards appear to have kicked the traditional envelopes and note cards to the curb in favor of technology to bring the event into the modern era of going paperless. Instead, the announcers had in their hands the Samsung Galaxy Note II.
In a clever marketing angle from Samsung, the handset delivered the news to the announcers so they may present the relevant awards to the winners throughout the evening. Many of the announcers presented the screens to the cameras and audience to observe for themselves. The pictures tell the story.
In the video below, we see the Note II play its vital role as US Olympian Apolo Anton Ohno and actress Kerry Washington announce Linkin Park with the Alternative Rock Award. Just as noteworthy was Linkin Park's short and to-the-point "thank you" to the usual suspects. While we did not see any sign of the S-Pen in play, Samsung definitely earned itself a winning spot for product placement at a high-profile, widely televised event.
source:
Mashable
and
Gizmodo
(Australia)