Samsung Galaxy Note 7 front panel leaked: open your eyes wide for an iris scan
99+
The Samsung Galaxy Note 7 is rumored to make its official appearance in just about a month at a big event that is allegedly scheduled for August 2nd, but this does not mean that Samsung will be able to keep it a secret until then.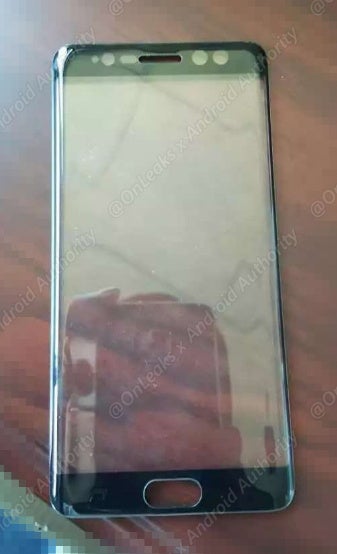 Leaked Galaxy Note 7 front panel hints at new front cameras for iris scans
After a few leaks that revealed the
Galaxy Note 7 specs
and
design
, we are now seeing what is said to be the front cover glass of the Note 7, leaked by the reliable @OnLeaks and there are two important things to talk about.
Yes, it's a dual-curved design like the Galaxy S7 Edge, and true, it will indeed feature an iris scanner as an alternative to the fingerprints and also secure method to unlock your phone by just looking at it.
Just like our fingers come with a unique pattern that is scanned for a secure unlock, the same way our iris contains a unique pattern that front-facing cameras on the Note 7 will recognize and unlock the phone securely. We have seen Windows Phone devices already use an iris scanner, so it's not a completely new concept, but on those devices we found scanning to happen only at a set distance and not as fast and accurate as a fingerprint scanner. The challenge for Samsung is to improve on those early iris scan implementations with a faster and more reliable iris scan on the Galaxy Note 7.
Unlock your Note 7 with your eye sight... or use a fingerprint, you choose
Interface: Android 6 Marshmallow with new Grace UX
Display: 5.7" or 5.8" Quad HD Super AMOLED
SoC: Snapdragon 820 for US, Exynos 8893 for rest of world
RAM: 6GB LPDDR4
Camera: 12MP main cam, 5MP selfie shooter
Storage: 64GB UFS 2.0, supports microSD card expansion
Battery: 3,600mAh or 4,000mAh
Extra features: Dual edge screen, IP68 water protection, New S-Pen, USB-C
Finally, do keep in mind that - as reliable as this leak seems - nothing is official until Samsung confirms it and this should happen soon, at the official Galaxy Note 7 reveal.