Samsung Galaxy Note 7 S-View Standing Cover and wireless Backpack battery case hands-on
9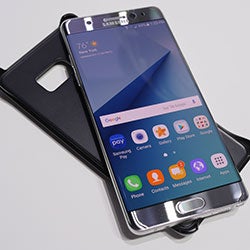 Samsung's Unpacked events are some of the most eagerly anticipated platforms for launching new devices, and while they regularly introduce us to the latest Samsung handsets, they're more than just an opportunity to meet the manufacturer's new smartphones. Unpacked also brings us Samsung's latest accessories and related mobile devices, and between the
Gear Fit 2
,
Gear 360
, and the
latest-gen Gear VR
with support for the Note 7's new USB Type-C interface, that's adding up to a metric boatload of hardware.
But while most of that stuff will work with any of Samsung's recent flagships, this week's Unpacked also included a healthy smattering of all new accessories purpose-designed for the brand new
Galaxy Note 7
. A lot it's just new versions of stuff we've seen before, but Samsung's still doing enough new with some of these entries that we thought they were worth a closer examination. Let's lean in for a quick look at the new S-View Standing Cover and Backpack wireless charging case.
S-View covers
have long offered a nice balance for users who want both the body of their phone and its screen equally protected, while also keeping things quite slim and putting an emphasis on usability. Everything you've known about previous S-View covers is just as true for the Galaxy Note 7, but for this new edition Samsung's making one important change, giving the cover a built-in stand.
Simply pivot the Note 7 up on its right-hand side, and the S-View Standing Cover's front panel quickly becomes an impromptu stand for the phone, nestling in to a matching slot on the handset's left edge. The result is a stand that keeps your phablet securely positioned upright, in a configuration ideal for watching videos on the Note 7's new HDR-enabled AMOLED screen.
On the plus side, that design gives the S-View Standing Cover a nice, solid feel – you're not going to worry about tapping on your propped-up Note 7 with the phone's S Pen and be worried about knocking it down. But at the same time, one angle doesn't always fit all, and we can understand how some users might prefer an adjustable design – or at least one that let us choose between two options.
Still, we suppose we have to credit Samsung with restraint in not over-complicating the cover's design, resulting in a simple, functional case we imagine a lot of users will get plenty of use out of. Right now, Samsung's got the S-View Standing Cover listed in its online store in a selection of four shades (to match Note 7 hardware colors), priced just under $50.
Samsung's new Backpack battery case is also very similar to accessories we've seen before, with
previous versions of the product
landing for the Galaxy S7, S7 edge, and even last year's Note 5. But just like the new Note itself, the latest generation of this case picks up some tweaks that make it a much more attractive accessory.
The gist of the Backpack is that it's an extended battery for the Note 7, but rather than interfacing with the phone through any kind of wired interface – be that USB or some series of purpose-engineered charging pins – it contains its own wireless charging coil, letting it beam power straight over to the Note 7.
That offers a few benefits, first of which is that it keeps the phone's USB port free for interfacing with other accessories. And since there's no power flowing around through any wires, Samsung was able to build the Backpack to be IP68 water-resistant, just like the Note 7 itself. The result is a charging solution you can feel comfortable using in pretty much any environment.
Compared to earlier wireless charging cases, the new Note 7 Backpack keeps a whole lot more of the phone exposed, not covering up any side buttons with awkward plastic extensions. Instead, it simply grips the Note 7 at its corners, helping to keep the phone's attractive design nice and visible, and also making installation and removal a breeze.
While this is a 3,100mAh component, don't think that it's going to nearly double the Note 7's battery life (with a 3,500mAh internal battery). Perhaps due to losses inherent to the wireless charging process, Samsung instead advises that it's more like adding an extra 50% to the Note 7's battery life. That's a bit less than ideal, so keep your expectations in check.
Pricing is also a little on the steep side, with Samsung listing the Backpack for nearly $90. Considering its limited ability to recharge the Note 7, we'd be more comfortable with a lower figure, but its waterproof build still makes the accessory an interesting add-on to consider.