Samsung Galaxy Note 5 may still launch early to fend off the iPhone 6S
47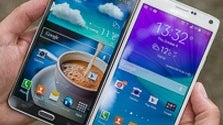 Last month, it was suggested that Samsung
had plans
to launch its
Galaxy Note 5
earlier than anticipated, in a move that would seek to beat Apple's next iPhone to the draw. Samsung Mobile president J.K. Shin quickly
shot down
these rumors, but fresh reports suggest that a pre-IFA unveiling could still be on the cards.
The IFA trade show, which begins on the first week of September, is the usual venue for a new Galaxy Note announcement. Just like the Galaxy S line gets the nod at Mobile World Congress, Samsung's coveted phablet series doesn't tend to deviate from its regular slot. Previously, it was offered that the Note 5 may arrive as early as July, but a new report suggests that it may instead début in August.
According to Taiwanese blog Sogi, the announcement of the Galaxy Note 5 will be
"held late August."
Citing
"informed sources,"
the report states that the rationale behind Samsung's decision to bring the announcement forward is
"to avoid the menacing iPhone 6S."
Given how successful last year's iPhone 6 and iPhone 6 Plus were -- to the apparent detriment of Samsung's smartphone lines -- and you can see why the Korean company might want to get the ball rolling sooner this time around.
We're taking this with a pinch of salt for now, but the utterances of J.K. Shin shouldn't be taken as gospel, either. After all, if Samsung
is
planning an earlier-than-anticipated release, he's unlikely to show his company's hand by shouting it from the rooftops.
Still, it'll be interesting to see whether the Tizen maker does have a revised announcement plan this time around, and we'll keep you posted on any further developments as they arrive