Samsung might announce the Galaxy Note 5 in July, wants to beat Apple iPhone 6s Plus to the chase
99+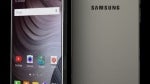 It looks like Samsung could make its next killer move in the smartphone industry's chess game sooner than anyone anticipated. We're talking about the Galaxy Note 5, of course, which is expected to follow up the Galaxy S6 & s6 edge in early September, a day before Berlin's IFA trade show. Such has been the tradition up till now, but according to Korea's WhoWired, Samsung will be ready to drop the bomb much sooner - as early as the end of July.
Reportedly, the Galaxy Note 5 had been developing faster than expected, so Sammy decided to push its announcement date forward, and gain a strategic advantage over Apple's
impeding iPhone 6s & 6s Plus announcements
. Indeed, this is the first year in which Samsung is challenged to apply the Galaxy S flagship's "release it ASAP" method to the Galaxy Note, as the Apple iPhone 6 Plus' strong sales have turned it into the first big-name competitor to Note devices.
What's even more interesting here is the forward-looking technology the Galaxy Note 5 is supposed to have. We've been tipped a couple of times already that Samsung Display will be ready to
mass-produce Ultra-HD (2160x3840) resolution AMOLED screens
in 2015, just in time for a summer Galaxy Note 5 announcement. Where display diagonal is concerned, WhoWired mentions 5.89 inches for the regular Note 5, and 5.78 inches for a Note 5 edge, which is something we have heard before and definitely makes sense for Note devices.
By the way, at an Ultra-HD resolution, these display diagonals will result in mind-warping pixel densities of over 700 pixels per inch! That's complete and utter overkill by any standard, but these screens are perfect for watching 4K content and immersing yourself in VR experience, so pushing smartphone displays to such heights makes sense for these two scenarios in particular.

The gargantuan smartphone will be powered by a Samsung Exynos chipset, possibly the same that we have up and running in the Galaxy S6. However, we can't envision Samsung pushing the ARM Mali-T760 GPU to feed a 4K display without a serious drop in performance, as the unit already takes a hit when outputting 3D graphics to the GS6's 1440p resolution screen. Hopefully, Samsung has a better solution in the cards.
Moreover, the Korean media says the Note 5 will be 0.31in (7.9mm) thick, which is 0.02in (0.6mm) thinner than its predecessor, the Galaxy Note 4. Surpsingly, the phablet could house an even larger 4100mAh battery (the Note 4 has a 3220mAh unit), which would be quite the achievement if it ever comes true.
So, let's resume: Galaxy Note 5 - 5.8in 2160x3840 screen - 0.31in (7.9mm) thick - 4100mAh battery - Exynos chip - out in July. Sounds too good to be true, because it probably is! But still, that's quite a bit of something to look forward to.
source:
WhoWired
Recommended Stories