Samsung Galaxy Note 4 (with Exynos 5433) benchmarks surface: see how it compares with iPhone 6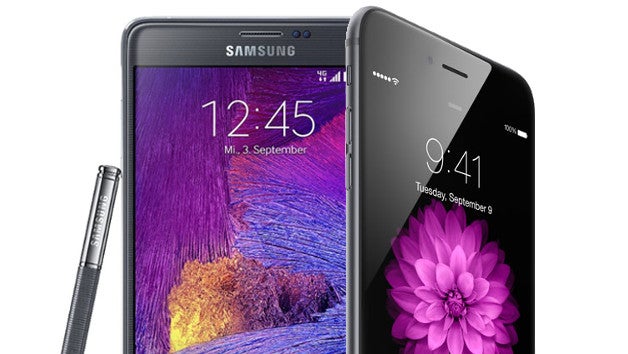 The Samsung
Galaxy Note 4
is expected to enter a fierce competition with the newly launched
iPhone 6 Plus
, but while it will be a couple more weeks until the Note 4 arrives on store shelves in the middle of October, the first benchmarks of the device have already leaked out.
In particular, we're looking at the first benchmarks for the Exynos 5433 version of the Note 4. Note that this is the version that will be distributed mostly in Asia, while Western markets and the United States will get the Snapdragon 805 Note 4 model.
With this in mind, we should say that the Exynos 5433 model has one important advantage - unlike the 32-bit Snapdragon 805, Samsung's own SoC is ARMv8 compatible and can run in 64-bit-mode as well, so it will in fact benefit from the full range of improvements coming with Android L and the ART runtime in particular.
Samsung is using an ARM processor license and has equipped the Exynos 5433 with four low-power Cortex
A53
cores and four performance-driven Cortex A57 cores in a big.LITTLE setup. Speeds reach up to 1.3GHz on the
A53s
, and 1.9GHz on the A57s, and the whole SoC is layed out in the 20nm manufacturing process. Looking a bit deeper at the performance A57 core, you'd see that it is in fact a glorified A15 with a 3-issue width and a deep, 15-stage pipeline. In reality, you should expect a 20% to 30% increase in 32-bit performance over Cortex A15s, and even larger gains on 64-bit.
It's time to put all those claims to the test, and these leaked benchmarks to exactly that. Take a look at the leaked benchmark results below. We've compared the results to our own
preliminary benchmarks of the Note 4
, and the results seem realistic to expectations.
From the CPU-centric benchmarks like Sunspider, Browsermark, and Geekbench, you can see a very clear improvement in the double percentage digits. Comparisons with the
iPhone 6
are inevitable, so we'll leave the iPhone 6 benchmark scores for contrast below (the iPhone 6 scores are not in the images, but we've added them for comparison in the text to the slides):
The performance of the Mali T-760 GPU is definitely impressive, but the demanding Quad HD (1440 x 2560-
pixel
) resolution takes its toll when it comes to on-screen results, and you can see how the Note 4 actually trails behind even the Note 3 in those terms.
Apple's arch-rival benefits most from its comparatively low resolution and scores nearly double the on-screen benchmark results. It's a trade-off: you get a higher-resolution screen (the benefits of which are explained here), but you lose performance.
We leave you with our own preliminary Note 4 benchmark results from IFA 2014 as a comparison point right below. With all these benchmarks out, completing the picture on the Note 4, what are your thoughts about the upcoming gadget: are you happy with its performance?
via
G4Games