Preliminary Galaxy Note 4 benchmark results
29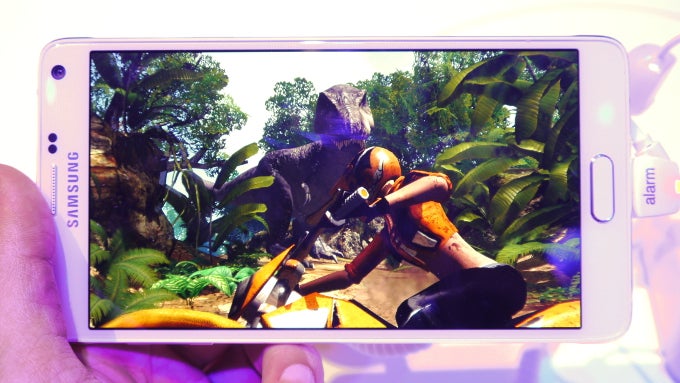 The Galaxy Note 4 barely showed itself on the horizen, but we tech enthusiast don't have time for formalities. Right off the bat, we've run the new phablet through its paces by executing a few performance benchmark apps on it. After all, the Note 4's 5.7" screen comes with that ultra-sharp QHD resolution that is sure to need the full power from the built-in SoC in order to move at a steady pace. Given that, it's especially interesting to see what kind of perforance we can expect from the Samsung Galaxy Note 4.
However, before we get right into it, please keep in mind that the benchmark apps have been run on an early Note 4 unit - one which is likely not having the latest software version - so things might actually look better when the phone launches in October. Plus, we shouldn't really read too much into synthetic benchmarks anyway...
By the looks of it, even though it's armed with a next-gen CPU (Snapdragon 805 / Exynos 5433), the Galaxy Note 4 will be able to deliver a level of performance that's pretty similar to that of today's flagships, such as the Galaxy S5, One (M8) and Xperia Z2. For those of you who are disappointed due to the lack of a boost in performance, well, that's the price one has to pay to support such an enormous resolution like Quad HD (1440 x 2560 pixels). Anyway, let's stay positive and hope that there's still some magic to be done on Samsung's part prior to the device's release!