Samsung Galaxy Note 4 vs Xiaomi Mi Note Pro: vote for the better phablet!
34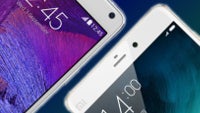 Although the Galaxy Note 5's launch is
just a few weeks ahead
, the Galaxy Note 4 is still Samsung's most current phablet, and arguably one of its best inventions ever. However, Xiaomi made quite a splash on the Internet when it announced the Mi Note and Mi Note Pro early this year. The latter, in particular, is probably the best phablet you can buy (or import) from China. Unfortunately, there is place for only one high-end phablet in most consumers' hands, hence we decided to let you, our readers, choose which one is worth staying, and which one has to go. Vote away! We'll share the results in a week.
Design
Back when the Galaxy Note 4, Samsung wasn't exactly the type of company known for crafting premium-looking devices. It was the Galaxy S6 and the company's A series that changed that, not really the Galaxy Note 4. But still, the phablet had clearly taken a step up in its build quality compared to Samsung's prior output, as the Note 4 was one of Sam's first smartphones to boast a frame made of actual metal. It did have an unusual shape with its slightly protruding corners, but it did add to the device's high-end look and feel. Speaking of a which, Xiaomi's choice to emulate the iPhone 6 Plus' look and build isn't winning the Chinese upstart any innovation points, but it does get the message across — the Mi Note Pro is unmistakeably premium. Its thinned-out bezel and aluminum frame definitely turn it into a looker.
Dimensions-wise, the Note 4 isn't outrageously big for a phablet at 6.04 x 3.09 x 0.33 inches (153.5 x 78.6 x 8.5 mm), and we can say the same for the slightly taller, yet thinner Xiaomi Mi Note Pro 6.11 x 3.06 x 0.27 inches (155.1 x 77.6 x 6.95 mm). Both devices are reasonable in size for their category.
Of course, where the Mi Note Pro is thinner without offering an advantage in functionality, the Galaxy Note 4 is thicker, but has the advantages of its excellent S-Pen stylus. Housed inside a dedicated silo within the phablet, the S-Pen makes short work of taking notes and sharing data in Android, quite unlike any other device out there.
So, which phablet's look and feel do you prefer?
Display

The Samsung Galaxy Note 4's 5.7-inch AMOLED display is still one of the best smartphone screens one can enjoy in this day and age. First off, it's got an exceedingly high resolution of 1440 x 2560 pixels, making for a pixel density of 515 pixels per inch. With the ability to choose among different display modes, you can coax almost industry-standard color reproduction out of the thing, and its outdoor and indoor visibility are great due to its low reflectance and balanced maximum and minimum brightness values.

While we don't have exact measurements of the Mi Note Pro's display at our disposal, we do know it has a 5.7-inch IPS LCD screen made by Japan Display, that too comes with the grand 1440x2560 resolution and 515ppi pixel density. Althoug we don't have the scientific measurements, we've had very good impressions out of JDI panels over the years, so we certainly can't imagine the Mi Note Pro's panel as a letdown.






Interface and functionality
The Galaxy Note 4's TouchWiz user interface is very similar to that of the Galaxy S5, but Samsung tweaked some graphical elements for a lighter overall look. Notably, stock applications like the contacts, dialer, and settings now have a bright UI theme, making them look more cheerful and inviting.
Xiaomi's MIUI is one of the deeper attempts at customizing the stock Android experience, taken to the point at which it's hard to realize that you have Google's OS running on your phone. In fact, if you are using the Mi Note Pro in China, you won't find any trace of Google services in it. This doesn't change the fact that MIUI is well optimized, with smooth animations, extensive customization options, and support for themes.
Still, the Samsung Galaxy Note 4 has at least two considerable advantages over Xiaomi's user experience. First, there's the S-Pen and all its exclusive functionality, such as Action Memo, Screen write, Air Command, Smart Select, and Photo Note. Moreover, the phablet comes with a high quality fingerprint sensor that enables additional security features.
Camera
Samsung's phablet sticks with a camera sensor that has the same resolution as that of the Galaxy S5's 16 megapixels. Obviously, there's enough fidelity here to deliver photos with impressive detail, which the Note 4 does with aplomb. Moreover, its camera app is comprehensive, with a plethora of different camera modes and settings. The device's heart rate measurement sensor even lets one pull off rear cam selfies, provided they really have to. But if this sounds too complicated, you can always make use of the 3.7MP front cam for decent face shots.
The Xiaomi Mi Note Pro is no slouch in the camera department either, employing a 13MP rear Sony cam and a 4MP "ultrapixel" camera by OmniVision. Xiaomi's camera app is similar to the one in Apple's iOS devices, but it also includes plenty of tweak-able parameters, as well as various filters and modes. Be aware, though, that the front cam is set to automatically "beautify" your selfies, adding an odd element of "plastic surgery" beauty to your natural complexion.